VIOLENT AND VULNERABLE
Some combative citizens may be at heightened risk of death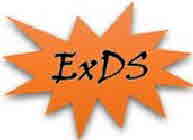 For Police Issues by Julius (Jay) Wachtel. It wasn't a chokehold that felled Robert Heston on that fateful Saturday afternoon some fifteen years ago. After going berserk, attacking his elderly parents and thrashing their home, Mr. Heston was in no mood to cooperate with Salinas (Calif.) police. He resisted violently, and they responded with a score of Taser strikes. But once the cuffs went on Mr. Heston stopped breathing. He remained unconscious and died in the hospital on the following day.
Mr. Heston had a substantial record of arrests for drug use, drunkenness, disorderly conduct and assault, so he wasn't exactly an unknown. Yet nothing in his past or in his conduct that day would justify killing him. So the onus landed square on the cops – and, collaterally, on the tool (the Taser) to which they turned. And yes, there was a lawsuit, which ultimately drew nothing from the authorities but yielded a small judgment against Taser.
Click here for the complete collection of compliance and force essays
Why did Mr. Heston die? Litigation generated a series of post-mortems. Their findings were set out in great detail in an expert's report. They were also summarized in Amnesty International's ground-breaking study of Taser-linked deaths. Here's an extract:
The first...autopsy findings listed the Taser as a cause of death...a second report...listed an enlarged heart as cause of death and the Taser as contributory causes. The third and final report...determined that cause of death was multiple organ failure due to cardiopulmonary arrest; due to methamphetamine intoxication; excited delirium; left ventricular enlargement and fibrosis, with contributory causes: Rhabdomyolysis, secondary to multiple Taser application.
We italicized "excited delirium" for a reason. Here is how that term is defined by medical specialists:
Excited delirium refers to a clinical situation that is characterized by a series of typical features that include agitation, aggression and paranoia, intolerance to pain, unexpected physical strength, failure to tire despite constant physical activity, lack of clothing, rapid breathing, profuse sweating, elevated temperature, an attraction to glass or mirrors, and failure to respond to police or medical directives.
As that article mentions, the syndrome, commonly referred to as "ExDS" has been stigmatized because some consider it a handy way to excuse police abuses. (For a comprehensive accusation to that effect check out this article in Slate.) Still, ExDS first appeared in nineteenth century medical literature as "Bell's mania," so its origin long predates current controversies in policing. And while some find it odious to attribute poor outcomes to anything other than officer misconduct, respected players in the policing community – say, IACP's Law Enforcement Policy Center – have determined that ExDS is very much real.
More importantly, that's also the view of the emergency medicine community. In a highly detailed 2009 "White Paper Report on Excited Delirium Syndrome," the American College of Emergency Physicians concluded that ExDS "is a real syndrome of uncertain etiology...characterized by delirium, agitation, and hyperadrenergic autonomic dysfunction, typically in the setting of acute on chronic drug abuse or serious mental illness." Two years later an article in the Journal of Emergency Medicine described the demeanor of persons in the throes of ExDS:
Patients present to police, Emergency Medical Services, and the emergency department with aggressive behavior, altered sensorium, and a host of other signs that may include hyperthermia, "superhuman" strength, diaphoresis, and lack of willingness to yield to overwhelming force. A certain percentage of these individuals will go on to expire from a sudden cardiac arrest and death, despite optimal therapy.
As one might expect, ExDS is also well known to emergency medical responders:
The hallmark of ExDS is agitation and violent behavior in a patient with altered mental status. Patients with ExDS often have superhuman strength, do not respond to physical compliance techniques due to increased tolerance to pain, and are highly resistant to physical restraint. On physical exam, patients will present with hyperthermia, tachycardia and tachypnea.
Officers, though, aren't clinicians. They don't work in anything that approaches a controlled environment. So while ExDS may indeed be "a medical problem masquerading as a police call" (that's what an NIJ-sponsored report calls it), the chaotic nature of street encounters may limit officers' willingness to let the fuse keep burning. After all, who says there won't be "bomb" at the other end? Bottom line: all that "superhuman strength" and unwillingness "to yield to overwhelming force" that accompanies a full-blown instance of ExDS will inevitably provoke a forceful police response.
Unfortunately, the U.S. lacks a national law enforcement use of force dataset. (In 2019 the FBI launched an effort to capture data about police use of firearms and any uses of force that caused death or serious bodily injury. For more about that click here.) However, two common tools – pepper spray and conducted energy devices (CED's, e.g., "Tasers") – have been examined in some detail. NIJ has little positive to say about pepper spray. It's not considered an effective way to prevent violence and has actually been blamed for increasing officer injuries. On the other hand, NIJ has reported that CED's can reduce harm to both citizens and police.
Yet CED's also have problems. A 2017 Reuters study reported there had been more than one-thousand deaths attributed to their use. However, the authors blamed strikes to the chest for most of the toll. According to PERF, though, some people are especially vulnerable to CED's. Among them are persons in the midst of an episode of ExDS:
Some populations currently believed to be at a heightened risk for serious injury or death following an ECW application include pregnant women, elderly persons, young children, visibly frail persons or persons with a slight build, persons with known heart conditions, persons in medical/mental crisis, and persons under the influence of drugs (prescription and illegal) or alcohol. Personnel should be trained about the medical complications that may occur after ECW use and should be made aware that certain individuals, such as those in a state of excited delirium, may be at a heightened risk for serious injury or death when subjected to ECW application or other uses of force to subdue them. [Emphasis ours]
Now that "excited delirium" has again reared its nasty head, consider the case of Zachary Bearheels. Here's a condensed version, self-plagiarized from "Three (In?)explicable Shootings":
Omaha officers came across a morbidly obese, mentally disturbed 29-year old man licking a store window. He accepted water and was let go. He was subsequently booted off a bus and caused a ruckus outside a store. Two officers got him into a squad car to go in for a mental check, but their sergeant said no. Bearheels then broke free. Two other cops jumped in. They repeatedly Tasered Mr. Bearheels and struck him on the head. Zachary Bearheels went "motionless" and died at the scene. A coroner later ruled that his death was "associated with excited delirium (psychomotor agitation, hallucinations, speech and thought disturbances, reduced response to painful stimuli, bizarre and combative behavior, and hyperthermia), physical struggle, physical restraint, and use of conducted energy device."
Many essays in our "use of force" section discuss instances that clearly line up with the syndrome. Consider, for example, the shooting death of Michael Brown, which set off major protests and helped propel a national dialogue about the use of force against blacks. But as we pointed out in "Lessons of Ferguson," Mr. Brown was not blameless. Convenience store videos depict him shoplifting cigarillos and strong-arming a clerk who tried to stop him from leaving (1:12-1:35). Witnesses confirmed that Mr. Brown acted aggressively towards the officer who ultimately killed him. (The officer claimed that Brown punched him in the face and tried to take his gun.) And an autopsy revealed sufficient cannabinoids in Brown's blood to impair judgment.
Fast-forward to...today. ExDS-like patterns are evident in two notorious recent episodes: the police killings of George Floyd and Rayshard Brooks. No, we're not saying that the officers who encountered them acted appropriately. (For our in-depth assessments check the posts.) But we are saying that factors associated with ExDS syndrome helped set the stage for the deplorable outcomes.
Mr. Floyd and Mr. Brooks had substantial criminal records. Mr. Brooks was on felony probation.

When faced with arrest, Mr. Floyd and Mr. Brooks suddenly turned non-compliant and violently engaged officers in protracted physical battles. Knock-down, drag out fights do happen in policing, but they're definitely not typical.

Mr. Floyd's death is commonly attributed to choking. His autopsy, though, revealed "no life-threatening injuries." Instead, the diagnosis cites blunt force injuries, serious pre-existing medical conditions (e.g. severe arteriosclerosis, hypertension), and a substantial amount of drugs in his blood, including fentanyl and meth. Notably, one of the rookies involved in the arrest, officer Thomas Lane, voiced concern during the struggle that Mr. Floyd was suffering from "excited delirium or whatever" (see "Punishment" and 7/9 update, below.)

A field breath alcohol test indicated that Mr. Brooks was intoxicated. He had fallen asleep in his car in a drive-through lane, so something was clearly amiss. Manner of death was reported as two gunshot wounds to the back. No toxicology results or other medical information has been released.
In-custody deaths are frequently attributed to purposeful choking by police. Undoubtedly some have happened. But a recent New York Times review of seventy arrestees who died after telling police that they couldn't breathe paints a far more complex picture:
Not all of the cases involved police restraints. Some were deaths that occurred after detainees' protests that they could not breathe — perhaps because of a medical problem or drug intoxication — were discounted or ignored. Some people pleaded for hours for help before they died…In nearly half of the cases The Times reviewed, the people who died after being restrained, including Mr. Williams [Byron Williams, Las Vegas], were already at risk as a result of drug intoxication. Others were having a mental health episode or medical issues such as pneumonia or heart failure. Some of them presented a significant challenge to officers, fleeing or fighting.
While this account seems almost a roadmap to excited delirium, the Times makes no mention of the syndrome. Still, its analysis is eerily consistent with findings reported in the American College of Emergency Physicians' "White Paper" on ExDS:
There are well-documented cases of ExDS deaths with minimal restraint such as handcuffs without ECD use. This underscores that this is a potentially fatal syndrome in and of itself, sometimes reversible when expert medical treatment is immediately available.
In an extensive "law enforcement section" the paper's authors warn of the risks posed by persons in the grips of ExDS. But they also point out that virtually any technique or physical aid that's commonly used to control violent persons, including pepper spray, batons and joint locks, can prove lethal:
Given the irrational and potentially violent, dangerous, and lethal behavior of an ExDS subject, any LEO interaction with a person in this situation risks significant injury or death to either the LEO or the ExDS subject who has a potentially lethal medical syndrome.
What about simply stepping back? That's something we've repeatedly counseled (see, for example, "First, Do No Harm.)" According to the authors, though, it may not be feasible to let persons who exhibit the symptoms of ExDS calm down on their own, "as this may take hours in a potentially medically unstable situation fraught with scene safety concerns." Officers who encounter excited delirium are thus caught in the horns of a true dilemma, as any substantial application of force might kill. All they can realistically do is recognize when ExDS might be present, try to tailor their response accordingly, and call for EMS. And even if they do it all correctly, they're hardly out of the woods:
Be sure to check out our homepage and sign up for our newsletter
This already challenging situation [ExDS] has the potential for intense public scrutiny coupled with the expectation of a perfect outcome. Anything less creates a situation of potential public outrage. Unfortunately, this dangerous medical situation make perfect outcomes difficult in many circumstances.
That paper was published during the halcyon days of 2009. More than a decade later its concerns about "potential public outrage" should policing prove lethally imperfect seem all too sentient. In these deeply polarized times it's far wiser to blame poor outcomes on the cops, and only the cops. So if you're an educator and decide to "pocket" this essay, we understand. We're not offended!
UPDATES
7/19/20 An op-ed in The Washington Post challenges the conclusion by the American College of Emergency Physicians that excited delirium is real. It calls the syndrome "pseudoscience" that police use as a "convenient scapegoat" to justify killings that disproportionately victimize Black men.
7/9/20 Transcripts of footage from the body-cams of Minneapolis officers Lane and Kueng reveal that officer Lane voiced concern that George Floyd was suffering from "excited delirium or whatever." Officers summoned an ambulance early during the struggle but confusion about their location and the urgency caused a delay.
Did you enjoy this post? Be sure to explore the homepage and topical index!
Home Top Permalink Print/Save Feedback
---
RELATED POSTS

Punishment Is it Ever OK (II) Workplace Without Pity Routinely Chaotic Three Shootings

Ideology Trumps Reason A Very Hot Summer Lessons of Ferguson Making Sausage

Policing is a Contact Sport (I) (II) First, Do no Harm Dancing with Hooligans

Sometimes a Drunk Kicking a Suspect

RELATED ARTICLES AND REPORTS

American College of Emergency Physicians "White Paper Report on Excited Delirium Syndrome"

Penn State study "Special Panel Review of Excited Delirium"

Forensic Sciences editorial "Ongoing issues with the diagnosis of excited delirium"

Western Journal of Emergency Medicine article "Excited Delirium"

The Journal of Emergency Medicine article abstract "Excited Delirium"

Journal of Forensic and Legal Medicine, "Distinguishing Features of Excited Delirium Syndrome in Non-Fatal Use of Force Encounters"

EMS World article "Excited Delirium"

IACP Law Enforcement Policy Center "Need to Know" about Excited Delirium
---
Posted 6/19/20
IS IT EVER OK TO SHOOT SOMEONE IN THE BACK? (II)
In Atlanta, a "routine" encounter turns lethal.
Instantly, the deplorable outcome is attributed to race.
For Police Issues by Julius (Jay) Wachtel. Friday, June 12, Atlanta. Thanks to citizen videos, police bodycams and a fixed surveillance camera, there is little question about what took place in a Wendy's parking lot on that fateful evening. But explaining why a "no big deal call" (in cop-speak) led to the death of a citizen who had at most driven while drunk takes a lot more than pictures. To be sure, given the current, polarized atmosphere, jumping to the conclusion that it was all about race – after all, the cops were white, the citizen black – seems like a no-brainer. But policing is a complex enterprise. So let's take a closer look. (Our main sources were ABC News, the Atlanta Journal-Constitution, The New York Times, and a YouTube post by GPB Media.)
Wendy's called police about 10:3o pm to report that drive-thru customers were maneuvering around a motorist who was asleep in his car. Officer David Brosnan responded. According to ABC News, he's on his second year as a cop. Officer Brosnan woke up the driver, Rayshard Brooks, 27. Brooks was pleasant and cooperative, and on request relocated his vehicle to a parking spot.
Click here for the complete collection of compliance and force essays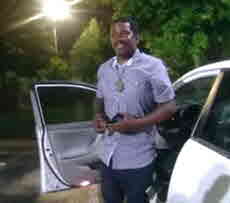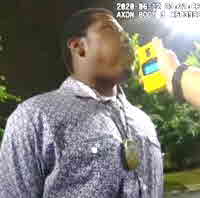 Officer Brosnan called for assistance. Officer Garrett Rolfe soon arrived. He had been with Atlanta PD since 2013. According to the Journal-Constitution, officer Rolfe, a member of the "High Intensity Traffic Team," made more than fifty DUI arrests in 2019 and was honored by Mothers Against Drunk Driving. Brosnan quickly briefed Rolfe, who took over. Brooks readily performed a field sobriety test, then agreed to a breath test, which Rolfe administered.
That's when things turned dicey. A body-cam close-up of the breath device screen depicts a reading of .108. That's 35 percent higher than Georgia's .08 limit. After telling Brooks that he had "too much to drink to be driving," Officer Rolfe instructed him to put his hands behind his back and reached for his handcuffs. (Officer Brosnan, who isn't clearly depicted on the video, walked up to help.)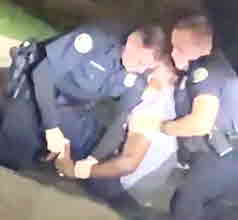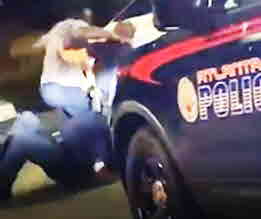 Mr. Brooks, who had already volunteered to leave his car and walk home, seemed upset. Although he initially complied, as officer Rolfe started applying the cuffs Brooks resisted with such force that he and both officers tumbled to the ground. That's when officer Brosnan pulled his Taser. Brooks promptly grabbed it. Breaking free, he then punched officer Rolfe in the face and bolted, armed with a Taser. Officer Rolfe fired his Taser at Mr. Brooks, who seemed to react. But the man ran off anyway.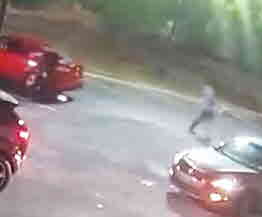 Taser in hand (newer versions can fire twice), officer Rolfe chased Brooks through the parking area. Officer Brosnan trailed far behind. During the chase, officer Rolfe switched the Taser to his left hand and drew his pistol. Momentarily, Brooks turned and fired his Taser (see left). His shot went wild. Officer Rolfe instantly discarded his Taser, aimed the pistol and fired several rounds (see right). Two struck Brooks; both in the back. (Apparently, at least one round went wild and struck an occupied vehicle in the lot.)
Brooks died at the scene. According to the medical examiner, cause of death was "two gunshot wounds of [Mr. Brooks'] back that created organ injuries and blood loss." Things moved swiftly. One day after the shooting, Atlanta Mayor Keisha Lance Bottoms announced that she did "not believe this was a justified use of deadly force" and fired officer Rolfe. At a hastily-called news conference, the mayor also announced the voluntary departure of police chief Erika Shields, a veteran Atlanta cop. Here's an extract from the chief's parting words:
Out of a deep and abiding love for this City and this department, I offered to step aside as police chief. APD has my full support, and Mayor Bottoms has my support on the future direction of this department. I have faith in the Mayor, and it is time for the city to move forward and build trust between law enforcement and the communities they serve.
Chief Shields' "offer" had been quickly accepted. Blame assessment was moving at warp speed. In a charged national atmosphere, city officials were confronting the police killing of a black citizen who had seriously harmed no one. Yet forty-five minutes after the police stepped in he lay dead. That dreadful incongruity resounded with mayor Bottoms:
I firmly believe that there is a clear distinction between what you can do and what you should do. I do not believe this was a justified use of deadly force and have called for the immediate termination of the officer.
Her sentiments were promptly echoed by Fulton County D.A. Paul Howard, whose office was considering charges against the officers:
(Brooks) did not seem to present any kind of threat to anyone, and so the fact that it would escalate to his death just seems unreasonable. It just seems like this is not the kind of conversation and incident that should have led to someone's death.
What is the law about police use of deadly force? Here are two Supreme Court cases on point:
Tennessee v. Garner (1985): Officers may not use deadly force to prevent "an apparently unarmed, non-dangerous fleeing suspect" from escaping unless there is "probable cause to believe that the suspect poses a significant threat of death or serious physical injury to the officer or others."

Graham v. Connor (1989): Four years after Garner the Justices offered a key concession, ruling that the appropriateness of force must take into account "the facts and circumstances judged from the perspective of a reasonable officer on the scene" while allowing "for the fact that police officers are often forced to make split-second decisions about the amount of force necessary in a particular situation."
Unlike the Supremes, who simply refer to "suspects," best we can tell Atlanta P.D.'s use of force policy, which cites Graham v. Connor, mentions deadly force only in relation to arresting a suspected felon (sec. 4.6.9):
Employees shall only use deadly force to apprehend a suspected felon when: (a) he or she reasonably believes that the suspect possesses a deadly weapon or any object, device, or instrument which, when used offensively against a person, is likely to or actually does result in serious bodily injury; (b) when he or she reasonably believes that the suspect poses an immediate threat of physical violence to the officer or others; (c) or when there is probable cause to believe that the suspect has committed a crime involving the infliction or threatened infliction of serious physical harm (O.C.G.A. Section 17-4-20) if the employee reasonably believes that the suspect's escape would create a continuing danger of serious physical harm to any person. (emphasis ours)
That "O.C.G.A. section" refers to a provision in the Georgia State code that addresses using deadly force to apprehend felons. Actually, the "felon" distinction probably makes little difference here. After all, Mr. Brooks became a suspected felon when he violently resisted arrest, then fired a Taser at his pursuer. According to the D.A., the task now was to decide whether Brooks posed the threat mentioned in Garner:
Specifically, (the question is if) Officer Rolfe, whether or not he felt that Mr. Brooks, at the time, presented imminent harm of death or some serious physical injury. Or the alternative is whether or not he fired the shot simply to capture him or some other reason. If that shot was fired for some reason other than to save that officer's life or to prevent injury to him or others, then that shooting is not justified under the law. (emphasis ours)
Bottom line: did officer Rolfe believe he faced a risk of "death" or "serious physical injury" at the moment that he pulled the trigger? Or did he feel that he or others "imminently" faced that risk? And either way, was that belief reasonable?
As far as the D.A. was concerned, it was not. On June 17 he filed eleven counts against the ex-cop, including murder, aggravated assault, violating his sworn oath and damaging property. Three of the aggravated assault counts and the property offense stem from his discharge of a round that went astray and struck an occupied vehicle. One count of aggravated assault accuses him of kicking the dying man. Officer Brosnan wasn't charged in relation to the actual shooting. But he faces three counts: aggravated assault, for stepping on Mr. Brooks as he lay on the ground, and two counts of violating his oath.
Let's take a closer look at Mr. Brooks. At first, he seemed pleasant and cooperative. He even referred to officer Rolfe by his first name. Those niceties ended when the cuffs were about to come on. Watch the videos – Mr. Brooks' fighting abilities are jaw-dropping. He was also a convicted felon, and currently on probation. Here's his summary table from the Clayton County superior court: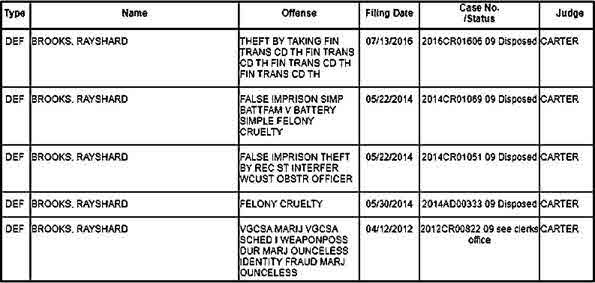 Mr. Brooks' record (click here and enter his name) dates back to 2012, when he was charged with drug and weapons crimes. Mr. Brooks pled guilty to two counts and received a suspended sentence. Two years later he pled guilty to false imprisonment, two counts of battery and one of felony cruelty to children and drew a one year prison term, to be followed by probation. In 2016 he pled guilty to five counts of theft and apparently returned to prison for another year. He was again released on probation. Apparently there were more violations, and his most recent hearing was in February 2020. (We couldn't find a detailed account of Mr. Brooks' criminal record in the American media. For a Daily Mail [U.K.] summary click here.)
An opinion piece by CNN host Van Jones, who is deeply involved in criminal justice reform, suggested that Mr. Brooks' record had everything to do with his reaction:
For a person on probation, as Brooks was, any contact with a police officer -- for any reason -- means an almost certain return to the horrors of a jail cell. It is safe to assume that Brooks did not want to go back to jail over sleeping in his car or failing a sobriety test, lose everything he had and be forced to start his life over again. In other words, we do not know why the Atlanta police officer chose to shoot a man who was running away from him. But we can guess why that man chose to run, in the first place. Brooks didn't want to lose his liberty. Instead, he wound up losing his life.
What about officer Rolfe? After all, this is the time of coronavirus. With police departments throughout the country throttling back, it's been suggested that another officer might have let the man walk home. Mr. Brooks' status as a felony probationer, though, probably made that less likely. In any case, strictly enforcing DUI isn't a bad thing. Indeed, there are innumerable police-citizen encounters every day, and nearly all turn out peaceably. But as your writer can personally attest, there are also plentiful opportunities for bad endings. Making lots of arrests can yields great stat's and plaudits from MADD. It also increases the chance that sooner or later something will go wrong. Possibly very wrong.
We've often argued that both citizen and officer personalities matter. As he interacted with Mr. Brooks and administered field sobriety and blood-alcohol tests, officer Rolfe evidenced a calm, adept, compliance-gaining approach. Yet your blogger also sensed that he was a determined, perhaps even hard-headed sort. If there was enough evidence, no way would he let Mr. Brooks go. At the end, that .108 blood alcohol cinched it. Probable cause!
In "Fair but Firm" we mentioned that, as every cop well knows, being nice doesn't always gain compliance. Even when officers do their best, some citizens – say, Mr. Brooks – still go berserk. (Our first "Is it Ever OK?" cited two such examples, both involving chronic offenders.) Yet even when things go wrong they seldom turn lethal. Was there something about officer Rolfe that made it more likely he would turn to a gun? ABC News reported that officer Rolfe was "reprimanded" for a 2016 episode in which he used a gun. One year before that, according to the Guardian, officer Rolfe and two colleagues shot a man during what a judge would call "the wildest incident," then allegedly covered it up.
But as we discussed two years ago in Part I, shooting a man in the back – it was then 25-year old Daniel Hambrick – is something more. Much more:
Cops are supposed to protect everyone – not just themselves. That, indeed, is the reason for their being. Still, whatever its justification, shooting someone in the back is and will forever remain a loathsome practice. To many observers, perhaps most, Hambrick's killing seems nothing less than an execution, and this won't change no matter how carefully we deconstruct the circumstances that led to his demise.
There's no doubt that Mr. Brooks' willingness "to go to the mat" presented substantial risks. On the other hand, while we don't consider officer Rolfe's actions per se unreasonable, the thought of shooting someone in the back remains simply abhorrent. We're certain that most cops wouldn't do it. A number of policing experts, though, believe that officer Rolfe was justified. Chris Wigginton, director of Georgia's law enforcement academy, pointed out that officer Rolfe had plenty of reason to fear that a second attempt was coming, and that it could leave him seriously injured or dead. According to the New York Times, officer Brosnan's lawyer now claims that Mr. Brooks Tasered his client during the struggle, so shooting at officer Rolfe left him with an empty gun. We didn't see that first discharge on the videos, and even if it happened it's doubtful that in the heat of things the officers were keeping count.
Along these lines, we should keep in mind that officers routinely call in the names and birthdates of whomever they stop, and dispatchers promptly check and report any criminal histories they find. During the stop Officer Rolfe may well have learned that Mr. Brooks was on felony probation. So that, too, might have influenced his actions.
Be sure to check out our homepage and sign up for our newsletter
However one evaluates what took place, avoiding such endings is something that everyone can agree on. Could more training help? Perhaps, but officer Rolfe was reportedly recently trained in use-of-force and de-escalation techniques. How about more rules? Usually we're of the opinion that there are already plenty. But weighty public policy decisions are now being made at warp speed. With poorly informed, ideologically-driven solutions looming, agencies should make every effort to speedily clean their own house. They could begin by having working officers give examples and provide opinions about regulating the use of force against fleeing suspects, including those who aren't believed to be armed with a gun.
So let's get on with that fine-tuning. And please, let there be no reason for a Part III!
UPDATES
7/24/20 In 2019 Colorado prosecutors declined to charge a Rifle officer who fatally shot a man in the back. Armed with a handgun and apparently suicidal, Allan George, 58, was running away from officers who sought to arrest him on a child pornography warrant. According to the D.A., George, who was once convicted of child exploitation, was heading towards a populated area, giving "reason to believe that [he] might...take cover and at some point, engage the officer or others with his handgun." One month ago Colorado prohibited officers from using deadly force "unless there is proof of imminent threat of danger and there is a substantial risk that the suspect will hurt others." George's survivors are suing.
7/10/20 The L.A. County Coroner released the full autopsy of Andres Guardado. It confirmed that all five bullets entered his back. No drugs were detected in his blood or urine.
7/8/20 A private autopsy requested by the family of an 18-year old shot dead by a Los Angeles County Sheriff's deputy concluded that he died from five bullets that entered his back. Officials claim that the youth was carrying a pistol with an illegal high-capacity magazine and ran from two deputies who approached him to talk. Andres Guardado, 18, was supposedly employed as a security guard, but was too young to carry a gun.
7/6/20 Violence continues to engulf Atlanta following the killing of Rayshard Brooks, with five shot dead and twenty-six wounded during the July 4th. weekend. One of the dead was an 8-year old girl riding in her mother's car. "The reality is this," said Mayor Keisha Bottoms. "These aren't police officers shooting people on the streets of Atlanta, these are members of the community shooting each other." Violence and the "ransacking" of the state police building led Georgia Governor Brian Kemp to deploy 1,000 National Guard troops to protect government buildings.
6/22/20 After the shooting officer Brosnan was examined at the hospital and diagnosed with a concussion suffered when his head struck the ground. Officer Brosnan is freely expressing himself to the media. He says he always tries to defuse situations, denies trying to hurt Mr. Brooks, whose death he considers tragic, and insists he is not fashioning himself as a "witness" against anyone. He also says he was unaware of Brook's record.
6/21/20 An arrest warrant was issued for "Natalie White," Brooks' alleged girlfriend, whom surveillance images connect with the fire that burned down the Wendy's restaurant where he was killed. Brooks had asked officers to let him go to "Natalie White's" apartment to sleep off his intoxication.
Did you enjoy this post? Be sure to explore the homepage and topical index!
Home Top Permalink Print/Save Feedback
---
RELATED POSTS
Violent and Vulnerable Fair but Firm Routinely Chaotic
Is it Ever OK to Shoot Someone in the Back? More Rules, Less Force?
---
Posted 4/2/20
FAIR BUT FIRM
Gaining voluntary compliance is the sine qua non
of everyday policing. Indeed, of everyday life.

For Police Issues by Julius (Jay) Wachtel. Every mom and dad remembers the day (well, maybe it was a week or a month) when their bundle of joy transformed into an obstinate brat. As we well know, that's a two-way street. How parents respond to their children's acting-outs – and how offspring react to their parents' response – can affect their relationship during the crucial teen years and well into adulthood.
To be sure, even the best parents can only do so much. Genes don't come with an instruction manual. And once environmental factors such as peers and schools come into play the ability to influence one's offspring is severely limited.
Gaining compliance – hopefully, without resorting to brute force – is crucial in areas other than parenting. Regulations that require industry to recycle waste and limit pollution would hardly be needed if businesses paid attention to their impact on public health. Alas, when the "bottom line" is in play, corporations tend to assess the benefits of social responsibility with a calculator. Governments can offer inducements such as financing and technical assistance, but in the end there seems to be no substitute for the ability to impose fines that exceed the cost of doing the right thing from the very start.
Click here for the complete collection of compliance and force essays
Big business has problems other than Uncle Sam. Their chieftains must contend with corporate boards, investors and the stock market. So what about individuals? Must they also be coerced to do the right thing? Perhaps. According to Robbins and Kaiser the likelihood of punishment for noncompliance seems to be the key motivator for paying one's taxes. ("Legitimate authorities and rational taxpayers: An investigation of voluntary compliance and method effects in a survey experiment of income tax evasion," Rationality and Society, 2018).
What about policing? Are threats of punishment the real motivator there, too? Much of the literature says "yes!" For example, Sommers and Bohns looked into so-called "consent" searches. Bottom line: citizens who comply do so because they feel pressured. ("The Voluntariness of Voluntary Consent: Consent Searches and the Psychology of Compliance," Yale Law Journal, 2019).
Just like what happens between parents and kids, police encounters involve two parties: citizens and cops, and what one says or does inevitably influences the other. In "Compliance, non-compliance and the in-between: causal effects of civilian demeanor on police officers' cognition and emotions," Nix, Pickett and Mitchell probed how citizen behavior affects what cops do. Working officers were asked to respond to three detailed vignettes: one described an encounter with a disorderly pedestrian, another a car stop for a traffic violation, and the third a dispatch about a "suspicious person." (Our post is about commonplace encounters. We won't be commenting on bank robberies and such.)
As one might predict, citizens who were "outright noncompliant" evoked the most negative sentiments. Next to compliance, officers thought that citizen demeanor was also important. "Disrespectful" citizens consistently "arouse[d] greater suspicion" and "evoke[d] more antagonistic emotions (i.e., anger, annoyance, frustration)." Citizen disrespect also heightened officers' sense of danger on dispatched calls and increased their fear during traffic stops. Researchers thought these latter effects especially important because sentiments such as anger might distort perceptions; say, turn a cell phone into a gun. (For more about that check out "A Reason? Or Just an Excuse?").
To be sure, it's a two-way street. How cops go about their job affects how citizens react. In "Compliance on demand: the public's response to specific police requests," Mastrofski, Snipes and Supina described findings of a ride-along study in Virginia. In routine encounters, being "forceful" or showing a citizen "disrespect" proved significantly less likely to yield compliance than a "friendly" (but not gushing) approach. Officers with more experience and those who reported more positive feelings about community policing also seemed to get better results.
Yet cops were only part of the puzzle. Citizens who were less "rational" proved less likely to comply. Compliance also suffered in non-public settings (e.g., someone's home) and as situations increased in severity. However, it improved when it was obvious that the citizen had done wrong.
What can police do to enhance the prospects for compliance? Nix and his colleagues suggest that realistic training exercises might help officers improve their ability to analyze risk:
…training emphasizing that bad attitudes violate no laws may help to reduce officers' reliance on the attitude test to judge civilian suspiciousness and dangerousness. Such training may also have the added benefit of helping to reduce antagonistic emotions by countering the view that a bad attitude is a moral violation.
Better risk analysis could enhance officer safety. It could also help citizens survive should they say or do something that might cause an untrained cop to become needlessly fearful. (For more about the centrality of risk tolerance to the craft of policing, check out "Working Scared.")
Mastrofski et al seemed less sanguine about the prospects for improvement, in part because of difficulties in nailing down the officer traits that really count. They did speculate, though, that cops who regularly succeeded at securing compliance might have "heightened diagnostic skills" that helps lead them down the most likely paths to a peaceful and satisfactory conclusion.
Such things have preoccupied pundits (including us) for some time. Beyond the willingness to accept risk, our "Use of Force" section is replete with posts that caution against letting the chaotic nature of the streets interfere with one's judgment. (To be sure, easier said than done.) About the need to slow down, keep one's distance and, when possible, work from a position of cover. About de-escalating. In "Three (In?)explicable Shootings" we emphasized the centrality of officer characteristics such as temperament, judgment and forbearance, which should come with experience (but sometimes don't), and of the need for training that goes well beyond the academy. Bottom line: shifts that work together should train together.
Yet even the best crafted and intentioned police work sometimes fails. While this really(!) isn't a post about the virus, the pandemic offers pertinent examples of just how difficult it can be to get citizens to give up something they prize. Consider, for example, the avid surfer who received a $1,000 fine after brushing off "numerous warnings by police and lifeguards cautioning him not to go in the water." Or the Florida pastor who assembled his flock for church services despite pleas by cops and lawyers to avoid "putting his congregation in danger of contracting the coronavirus." (He was arrested.)
Be sure to check out our homepage and sign up for our newsletter
To be sure, these characters would probably justify themselves differently. Yet their obstinacy likely shares a common psychological root. As everyone who's worked in law enforcement knows, some citizens – and that includes surfers, preachers, angry spouses and inner-city gang members – seem determined, come what may, to do what they want when they want. Consider the threat such pig-headedness could pose, and especially should a gun be around. Alas, there's no quick, street test for being shtupid (one of my dissertation chair's favorite sayings.) When that condition is diagnosed it's usually after someone gets hurt.
Ultimately, changing hearts and minds is a task for society. For civic leaders. Educational institutions. Politicians. And yes, even the clergy. Make it loud and clear: it's everyone's obligation to comply with the cops. After things have settled – and only then – complain. Until that sentiment spreads and takes hold, though, we urge that, if nothing else, officers fall back on the old "firm but fair" ditty but swap the terms around. After all, citizens usually assume that cops will be forceful. So surprise them with a pleasant and meaningful tweak. Whether it's a preacher or gangster, come in "fair" from the very start. Still, keep Mastrofski et al's findings in mind and don't overdo the sugar (that "carrot" in our online graphic.) In the real world of the streets, and seemingly everywhere else, there is sometimes no substitute for "firm."
UPDATES
Click here for a chronological series of selected news clips about compliance with COVID-19 rules
6/20/20 In "Procedural Justice and Legal Compliance," Daniel Nagin and Cody Telep argue that while procedurally just treatment of citizens by police can be of social benefit, it will not necessarily increase citizens' compliance with the law or reduce lawbreaking.
In "Effects of police body cameras on citizens compliance and cooperation," Mustafa Demir, Anthony Braga and Robert Apel conclude that citizens who interact with traffic officers wearing body cameras are more likely to agree with officers and with the laws than citizens who encounter officers without cameras.
6/7/20 After heated criticism, L.A. Pride, which organizes a yearly LGBTQ parade, apologized for thoughtlessly requesting its usual LAPD permit to conduct a "solidarity" march with Black Lives Matter, as asking for law enforcement blessing "goes against the demands for systemic police reform."
Did you enjoy this post? Be sure to explore the homepage and topical index!
Home Top Permalink Print/Save Feedback
---
RELATED POSTS
Is it Ever OK? (Part II) A Conflicted Mission Can the Urban Ship be Steered?
COVID-19: R.I.P. Policing? A Reason? Or Just an Excuse? Routinely Chaotic Speed Kills