Posted 12/18/11
Sometimes there really is no substitute for common sense
For Police Issues by Julius (Jay) Wachtel. "If you're talking about somebody who the rap sheet in front of you shows is potentially a dangerous person, has a gun, has a criminal history, common sense says don't let him out until you make one phone call." New York City Mayor Michael Bloomberg's criticism was directed at Evelyn Laporte, a Brooklyn judge who had brushed aside a prosecutor's request to set $2,500 bail and released a man arrested on drug possession and child endangerment charges on his own recognizance.
Yet the suspect, Lamont Pride, 27, wasn't an unknown quantity. Officers had caught him packing a knife a couple months earlier, a tangle that cost Pride a day in jail. Authorities in Pride's home town, Greensboro, North Carolina had recently secured felony warrants accusing Pride of shooting a man in the foot as they quarreled over a woman. Pride, who allegedly used a .22 pistol, was charged with assault with a deadly weapon with intent to inflict serious injury, felony conspiracy, and possession of a firearm by a felon, the latter relating to a prior conviction for armed robbery, an offense for which he served 13 months in prison.
Now here's the part that's hard to swallow. Greensboro's warrants specified "in-state extradition only." Police and prosecutors would later explain that they didn't consider Pride a flight risk and thought "he could still be in the area." So why not authorize extradition? One can guess that in these times of strapped budgets there were second thoughts about sending officers to another state to bring back a local ne'er-do well, particularly if injuries, as in this case, were minor and the victim was no one special.
The story doesn't end there. When NYPD arrested Pride for drugs and child endangerment an officer called Greensboro PD to confirm that they wouldn't extradite. That fact was passed on to Judge Laporte, who also got a look-see at Pride's long rap sheet. But she O.R.'d him anyway. Still, NYPD wasn't done. A detective called Greensboro a few days later. Whatever transpired during that little chat clearly had an impact, and on November 8 North Carolina's warrant was amended to authorize extradition.
Click here for the complete collection of strategy and tactics essays
Alas, it was too late. Pride skipped his New York City court appearance and was nowhere to be found. On December 12, NYPD officer Peter J. Figoski, 47, a 22-year veteran and father of four, responded to a report of a residential armed robbery. (It turned out to be a vicious attempt to rip off a local drug dealer.) While searching a dark apartment building officer Figoski and his partner were surprised by Pride, who allegedly pulled a 9mm. pistol and shot Figoski dead. Pride was caught during a foot chase.
Felons on the lam are always dangerous. On June 29, 2010 Dontae Morris allegedly shot and killed Tampa police officers David Curtis (l) and Jeffrey Kocab during a traffic stop. Morris, whose record includes arrests (but not convictions) for murder and weapons violations was released from prison two months earlier after serving a two-year term for possession and sale of cocaine. Only thing is, Morris had an active felony warrant for bad checks. "Right now we're not going to start pointing the fingers of blame," said Tampa PD Chief Jane Castor. "And frankly, it's not going to bring the officers back."
The deaths of officers Curtis and Kocab have been attributed to a complex tangle of bad decisions. Equally lethal results can flow from simple paperwork blunders. On January 23, 2011 "low-risk" parolee Thomas Hardy, 60, shot Indianapolis police officer David Moore during a traffic stop. Hardy was arrested after robbing a convenience store an hour later. Actually, Hardy shouldn't have been on the street in the first place, as he had recently been arrested for felony theft. Regrettably, Hardy's parole status hadn't been entered into the computer, and he didn't tell, so he was let go after arraignment.
Officer Moore succumbed to his injuries. Both his parents were cops. His father was a retired Lieutenant, his mother an active-duty Sergeant.
We've suggested in the past that bad decisions can be often attributed to a tendency to "dismiss, dismiss, dismiss." Going to "extraordinary lengths to routinize information and interpret questionable behavior in its most favorable light" can have tragic consequences. Here are a few examples:
When funding is tight criminal justice agencies must economize. States have been granting early paroles by the bucketful, releasing inmates left and right to make room and save money. Yet predicting someone's threat to society is chancy. In August three top Wisconsin juvenile corrections officials were suspended after police arrested three Milwaukee teens for a vicious robbery-murder. Two had been granted early releases while serving terms for violent crimes. One, now 18, did less than three years for directing a killing in which his adult codefendants got twenty years.
Be sure to check out our homepage and sign up for our newsletter
Decisions that can let potentially dangerous individuals go free should be taken in a reflective atmosphere with sufficient time to gather and evaluate all pertinent information. In the efficiency-obsessed atmosphere that pervades today's criminal justice system that ideal is rarely reached. Pressures to economize can lead well-intentioned practitioners such as Judge Laporte to lose their way and forget why they're there. It's precisely for such reasons that Mayor Bloomberg's admonition to use "common sense" should be taken to heart. Officers Figoski, Curtis, Kocab and Moore would ask for nothing less.
UPDATES (scroll)
8/3/23 Lauding it as a way to keep young persons living in wrought communities away from a life of crime, Illinois Governor J.B. Pritzker extended a State law that places first-time illegal gun possessors on probation and expunges their record upon its successful completion. New offenders will be able to "graduate" in as little as six months. Unless a judge requires it, they will not have to submit to drug testing, perform community service, or show that they're pursuing an education or employment.

6/23/23 Five young Minneapolis women were killed when a 27-year old ex-con "blasted" through a red light and struck their vehicle. Along with vehicular homicide, Derrick Thompson faces drug and ex-con with a gun charges after police found a loaded pistol and a large quantity of drugs in his vehicle. Thompson's criminal record dates back to a robbery conviction when he was 17. His driving record includes a 2020 California hit-and-run that left a pedestrian with permanent injuries and led to a wild pursuit, the recovery of a large quantity of drugs and cash, and a prison term. But once released, Thompson was nonetheless able to have his Minnesota driver license reinstated.

6/12/23 An alleged gang member who is wanted for an Oakland murder and has "numerous" active warrants for gun violations in two counties reportedly opened fire during a block party in San Francisco's Mission District. Nine persons, ages 19 to 35, were wounded. Javier Campos, who's connected with the notorious Sureno gang, reportedly sped away from the scene in his vehicle. He is being sought by police.

6/6/23 A 31-year old San Jose, Calif. man with a "violent, delusional past" is in custody after an inexplicable series of attacks that left three persons dead and five injured. Kevin Parkourana, who was on felony probation and has a string of convictions and mental-health detentions, stole vehicles, stabbed drivers, and ran over pedestrians and a man on a scooter. Parkourana was most recently arrested in January for a knife attack but was not charged. Santa Clara Co. court history

6/5/23 In 1982 Texas man Raul Meza was on parole for a robbery and shooting when he pled guilty to the rape/murder of an 8-year old girl. He got 30 years and was released in 1993 after serving one-third of his term. Meza was then "run out" of a string of cities. He's now back in custody, charged with two murders in the Austin area (he turned himself in and admitted to one). Meza is also being looked at in ten "cold cases". Austin's City Manager complains that "somebody made a bad decision 41 years ago and let this guy for whatever reason manipulate the system and justice was not served."

5/6/23 A new Georgia law creates a statewide commission to investigate and, if justified, remove local D.A.'s for "willful misconduct" or "persistent failure to perform his or her duties." Authored by the majority "Reds", it addresses the concern that "far-left local prosecutors are failing their constituents and making our communities less safe." But the "Blues" contend the measure targets the Atlanta D.A for investigating Trump's alleged election interference and promise to challenge it in the courts.

When he took office, George Gascon, L.A.'s progressive D.A., forbid prosecutors from seeking sentence enhancements. That allowed Justin Flores, a felon with multiple prior convictions, to be on supervised release instead of prison on the day he shot and killed El Monte police officers Michael Paredes and Joseph Santana. And now their families are suing the D.A. over his policy and the probation department, which allegedly failed to adequately monitor Flores.

5/4/23 In 2017, while imprisoned for rape, Jesse McFadden was charged with using a smuggled cellphone to solicit nude photos from a teen. Even so, he was freed in 2020, three years before his 20-year term would have normally expired. On May 1, 2023, when McFadden's trial on the solicitation charge was set to begin, he shot and killed his wife and five other persons, then committed suicide. (He blamed his accuser: "This is all on you.") His victims' survivors are now demanding to know why, given his looming criminal case, McFadden was granted early release.

4/8/23 George Sydnor Jr., 43, the D.C. man who allegedly murdered a Virginia woman who was visiting the District, had a long criminal record, including an armed robbery last October. But he was allowed to plead to attempt, as no gun was found. Sydnor also had a larceny warrant from a nearby jurisdiction. But the judge released him on probation on condition that he take care of that charge. D.C. has had 59 murders, 31% more than last year. According to the Post editorial board, it's "failing victims.

3/10/23 Jonathan Mangana, a 32-year old Los Angeles-area resident, was convicted of robbery in 2020. He was briefly imprisoned, then paroled. Last October he was arrested for battery on a cop and having a gun. He was released on bond, but failed to show up for arraignment. That's why LAPD was looking for him yesterday. Mangana opened fire. He wounded three officers, none critically. Mangana was shot dead.

3/3/23 Chicago police officer Andres Vasquez-Lasso was shot and killed yesterday after exchanging gunfire with an armed 18-year old whom a 9-1-1 caller said had been chasing a woman down the street. His attacker, who was wounded, was arrested for aggravated battery with a firearm last year after he and two companions ran off from a stolen car. But he was allowed to plea to misdemeanor obstruction / resisting, and that charge was dismissed after he completed community service.

2/24/23 St. Louis prosecutors are accused of ignoring "dozens" of pre-existing bond violations by Daniel Riley, a robbery defendant, who was driving without a license when he ran a red light, causing a collision that led a teen pedestrian to be struck and lose both her legs. But prosecutors said they verbally asked a judge to revoke the man's bond three times without getting a response. Riley's violations included letting his GPS monitor battery die and violating the terms of his house arrest.

2/3/23 Last Tuesday a 23-year old ex-con shot and killed a 24-year old police officer in the small, peaceful community of Selma, California. Officer Gonzalo Carrasco Jr., who had two years on the job, encountered Nathaniel Dixon, 23, on a suspicious person call. Dixon quickly pulled a gun and shot the officer dead. Dixon had served a brief prison term for robbery. Once out he was repeatedly arrested on gun and drug charges. But thanks to a considerate plea deal and AB 109, he was released on probation.

2/2/23 In October 2021 Benjamin Obadiah Foster was released from custody on the day he arrived at an Oregon prison to serve a sentence for savagely beating a woman friend. Although he had another beating case pending, a judge had given him a brief term and credited his time waiting for trial. Earlier this year Foster fled after beating another woman nearly to death. After an intense search he was found dead by suicide. In the interim he managed to kill two other persons who lived nearby.

1/25/23 More lethal gunplay rocked the nation. Jarid Haddock, a 21-year old Yakima man, used a pistol to "randomly" shoot and kill three strangers in and near a convenience store on Tuesday. He later committed suicide. Haddock was once arrested for stealing a car. After some difficulties with drug use, he completed a diversion program and charges were dismissed. And in Oakland, gunfire erupted during the Monday evening filming of a music video at a gas station. A hail of nineteen bullets left one person dead and four wounded. Gang rivalries are blamed, and so far no one has been arrested.

12/30/22 A multi-convicted felon with a lengthy arrest record shot and killed Riverside County Deputy Isaiah Cordero during a traffic stop. William Shea McKay, 44, was most recently convicted in November 2021 on charges including false imprisonment and evading police. But despite Cordero's past, a judge repeatedly postponed his sentencing and released him on bail. McKay was later spotted, and after a chase a police armored vehicle rammed his pickup truck and officers shot him dead (click here for L.A. Times update).

12/1/22 Justin Flores, a multi-convicted felon, was on probation when he gunned down El Monte, Calif. police officers Michael Paredes and Joseph Santana on June 14 as they responded to a domestic violence call. He would have been in prison had a prohibition on filing sentence enhancements for prior offenses, which was issued by progressively-minded D.A. George Gascon, not been in effect when Flores was last convicted. Cpl. Paredes' family has now filed a multi-million dollar claim against the D.A. for that move, and against the probation department for its lax supervision of Flores. (See 6/16, 17, 30 updates)

11/12/22 In 2003 three knife-armed intruders burst into the residence of a Maryland family and badly wounded the husband. Mistaking the car mechanic as the owner of a gas station, they rifled through the home looking for money, using socks they found to avoid leaving fingerprints. Seventeen years later a detective matched the DNA from inside one of the socks against the DNA database profile of Stacy Howard Moore, a local man who served five years for a similar 1994 robbery but had supposedly gone straight. Moore recently pled guilty and was sentenced to 18 years imprisonment.

11/11/21 California parolee Johnny Anchondo, 32 has amassed a series of convictions for "carjacking, reckless evading and joyriding." And on November 9, when Fullerton police tried to stop him for traffic violations, he took off. During the next hour and one-half he repeatedly smashed into his pursuers and stole at least three vehicles. His last ride was a pickup truck, which he got by breaking into an occupied residence and taking the keys. Anchondo was finally arrested after he crashed that vehicle at a gas station and was rammed by a police van. Complete video

10/27/22 Targeted for recall by anti-crime groups, Fairfax County, Va. D.A. Steve Descano uses data to show that he sought detention of violent offenders more often than courts allowed. His office policy, though, is to avoid prosecuting misdemeanors and to never seek cash bail, as it disadvantages the poor. Meanwhile his progressive counterpart in Philadelphia, D.A. Larry Krasner, faces impeachment for slacking off on prosecuting illegal gun possessors, of whom many have serious criminal histories.

10/26/22 Illinois Governor J. B. Pritzker commuted Gerald Reed's sentence last year because his conviction for a 1990 murder stemmed from work by detectives supervised by disgraced former Chicago P.D. Commander Jon Burge. But promptly on release, Reed reportedly embarked on a multi-State "crime spree." So now he's back in jail, but for other things. Meanwhile the saga of his original case remains. Could he be retried for the murder? And if he's convicted, could he do more time?

10/8/22 Jesus Salgado, who is under arrest for kidnapping and murdering four members of a Merced, Calif. family, had been fired from their trucking firm months earlier and had reportedly taken to prowling the business. "He would walk up and down the street for quite a ways in front of that business and beyond, yelling at people." His brother, Alberto Salgado, has also been arrested. He's charged with conspiracy and destroying evidence.

10/7/22 One day after Jesus Manuel Salgado was hospitalized in a suicide attempt, a Merced, Calif. farmworker found the decomposing bodies of three adults and an 8-month old. Surveillance video depicts Salgado abducting the victims at gunpoint from a local trucking business. Now under arrest for their murder, Salgado was convicted of armed robbery and home invasion in 2006 and was paroled in 2015.

9/13/22 On Sept. 2 Memphis resident Eliza Fletcher, 34, disappeared during a Friday morning jog. Video depicted a man forcing her into a truck, where a struggle apparently ensued. Cleotha Abston, 38, was arrested the next day. His DNA was matched to the victim's sandals, which were located near the crime scene. Fletcher's body was found two days later in a vacant apartment. Abston's criminal record dates back to the mid-90's. He was released in 2020 after serving two decades for armed kidnapping.

9/9/22 Memphis resident Ezekiel Kelly shot and wounded two persons in February 2020. Then 17, he was charged with attempted murder, but neither victim cooperated. Last April he pled guilty to aggravated assault and drew three years. Kelly was paroled in March 2022 after serving eleven months (a bid to be let out even earlier was turned down for "anger management" issues.) Two days ago the 19-year old live-streamed himself driving around the city, randomly shooting at people. He killed four and wounded three before being arrested.

9/8/22 Violent recidivists aren't just a problem in the U.S. Myles Sanderson, 32, whose knife-armed rampage in an indigenous Canadian reserve killed ten and wounded eighteen, was paroled in February from a term for assault and robbery. His 59 past convictions include the stabbing, seven years ago, of one of his new victims. Sanderson's parole was revoked in May. He remained at large, and authorities say they will investigate the decision to free him. Sanderson apparently committed suicide yesterday as police closed in. His brother Damien's body was found two days earlier.

8/12/22 Carlos Delcid, 20, and a 17-year old companion were arrested for the August 8 robbery-murder of rookie Monterey Park, Calif. police officer Gabriel Solorio. Officer Solorio, who was off-duty, was shot five times as he tried to flee. Delcid was on felony probation after recently pleading no contest to burglary and domestic violence (charges of assault with a deadly weapon, false imprisonment and witness intimidation were dismissed.) He also had a prior record.

8/4/22 Elwood, Ind. police officer Noah Shahnavaz, 24 was shot and killed when a motorist he stopped opened fire with a rifle. His murderer, Carl Boards II, a Marion barber, was released from parole last year. In 2006 he drew 25 years for an incident in which he shot at officers with a pistol and an AK-47. He was sentenced as a habitual offender but only served thirteen years. According to a citizen, he recently recorded a song "making statements that if he was ever caught by police that he would kill them."

7/6/22 Three years ago a Maryland judge allowed Austin Jacob Allen Davidson, 20, to avoid jail time after a conviction for armed robbery. Placed under ostensibly strict supervision, the man kept offending. On July 3 he opened fire on Wicomico County (MD) sheriff's deputy Glenn Hilliard as the officer tried to arrest him on multiple felony warrants. Deputy Hilliard, 42, was mortally wounded. Davidson was arrested and faces murder charges. Baltimore's police union is bitterly criticizing the supposedly permissive policies of the local prosecutor, which "have now gotten a Deputy Sheriff killed."

6/30/22 Justin Flores, a 35-year old Southern California man, had a long criminal record. But thanks to the D.A.'s intercession, his conviction last year for felon with a gun resulted in probation. And even as Flores continued misbehaving - a warrant was recently issued for domestic violence - probation officers failed to follow up in person. So they're also catching blame for the violent deaths of two El Monte police officers earlier this month, shot dead by Flores when they responded to reports of an assault at a motel. According to the L.A. Times, probation officers visited Flores once in sixteen months.

6/17/22 According to a deputy L.A. county prosecutor, Justin Flores, who murdered two El Monte police officers on June 14, had a prior felony conviction that should have counted as a "strike" when he was arrested for drug and gun offenses in 2020. But new, progressive D.A. George Gascon forbid using enhancements. In 2021 Flores pled no contest, and the lack of a "strike" enabled him to get probation instead of prison time. Flores was under probation supervision when he gunned down the officers. Judges later ruled that State sentencing laws overruled Gascon's lenient policy, and he withdrew it.

6/16/22 Justin Flores, the 35-year old man who shot and killed two El Monte (CA) police officers responding to a reported stabbing in a motel room, had multiple felony convictions dating back to 2011 and was barred from having guns. Indeed, he was on felony probation for a 2021 conviction for illegally possessing a firearm. His supervising officer had just requested that the probation be revoked because Flores assaulted his girlfriend, but instead of an arrest a hearing was scheduled for the near future.

6/10/22 As she campaigns for a second term , Chicago Mayor Lori Lightfoot objects to the release of persons, whether on bail or electronic monitoring, who are pending trial for violent crimes. "Of course they're entitled to their day in court. But residents in our community are also entitled to safety from dangerous people..." But the ACLU strongly objects. "Bail reform returns people to their homes and jobs, allowing individuals and families to remain afloat." So does the public defender, who calls Chicago "the false confession capital of the nation".

5/24/22 On May 22, six weeks after a mentally troubled man opened fire in a Brooklyn subway car, wounding ten, another rider inexplicably walked up to a seated passenger and shot him dead. The shooter has been tentatively identified as Andrew Abdullah, 25. A parolee with an extensive record, including guns and violence, he was arrested a month ago on a stolen car charge and released "under supervision." A camera captured him giving the gun to a homeless person. It's been recovered. Update: Abdullah soon surrendered to police.

5/12/22 In 2012, after confessing that he murdered two elderly sisters two years earlier, South Carolina man Joseph Jermaine Brand was sent to a mental institution so that he could regain the capacity to stand trial. He was apparently released in 2016, without notice to anyone. After a decade of hearing nothing, family members of the victims recently learned, through friends, that Brand was back home. Authorities say they're keeping an eye out but can do nothing until a grand jury acts.

4/25/22 In the 1990's rehabilitation became the watchword for juvenile justice in Minnesota. In many areas, including Minneapolis, detention "became a last resort." Young miscreants were offered counseling and job training, and it was assumed they would eagerly partake. But repeat offending took hold, and juvenile crime got worse than ever. Although victims and anguished parents have begged for a far sterner approach, the permissive laws still stand, and chronic offenders continue to be released.

4/18/22 In 2017 Garden Grove (Calif.) resident Ike Nicholas Souzer was thirteen and on home detection when he stabbed his mother to death. Prosecutors charged the "autistic" and "volatile" youth with murder, but in 2019 he was convicted of manslaughter as a juvenile. A few days ago he was released early to home monitoring. His grandmother warned the D.A. that "with that ankle bracelet, he's not going to make it through the day." Sure enough, the "extremely dangerous and violent" youth, who once escaped while awaiting trial, promptly cut it off and fled. He was arrested one day later.

4/13/22 LAPD attributes a sharp increase in "follow-off" robberies to teams of South-L.A. gang members who assail persons they observe leaving luxury stores and steal jewelry and other valuables for resale to entrepreneurs. There were 165 such robberies in 2021 and 56 so far this year. A special task force has served nearly 300 search warrants and made dozens of arrests for robbery, gun possession and attempted murder. But officers are frustrated that arrestees are quickly released without bail. It took four arrests - most recently, for seven robberies - before one suspect was finally held without bond.

4/8/22 Brothers Dandrae Martin, 26 and Smiley Martin, 27 were arrested after an April 3 shootout between rival gang members in a crowded Sacramento entertainment district that killed six and wounded twelve, including innocent bystanders. Both were wounded, and Smiley remains hospitalized. Both are felons and face ex-con with gun charges. Smiley also faces a machinegun charge, as his gun was converted to fire full auto. Against prosecutor's wishes - Smiley was a long-time gunslinger and considered very dangerous - he recently gained early release from a ten-year prison term. According to an AP investigation, his lenient treatment was enabled by California Prop. 57, which redefined crimes considered most dangerous and vastly expanded opportunities for good credits and early release.

3/11/22 Harvey Marcelin transitioned from male to female. What didn't change was the Brooklyn resident's propensity to kill. Now 83, Marcelin was convicted in 1963 for murdering their girlfriend. Marcelin was paroled in 1984. Within two years Marcelin killed another girlfriend and returned to prison. This time Marcelin served thirty-three years. In 2019, at the ripe old age of eighty, Marcelin was again paroled. Last week police recovered a severed head from Marcelin's apartment. Its accompanying body was found in a shopping cart a few days ago. And yes, Marcelin's back in the slammer. NY Times feature

2/19/22 On February 14 Quintez Brown, 21, stepped into a Louisville office and opened fire on Mayoral candidate Craig Greenberg as he met with his campaign staff. No one was injured but a bullet "grazed" Greenberg's shirt. Brown, a former activist who suffers from mental problems, was quickly arrested for attempted murder. He was released two days later on $100,000 bail put up by a group associated with Back Lives Matter. Greenberg says that he was re-traumatized by the man's release.

2/11/22 On December 8th. 2021 a 16-year old Chicago boy was arrested for armed robbery. He was carrying a loaded Glock. This was his second armed robbery arrest within months, but he was released and fit with an ankle bracelet. That enabled authorities to retrospectively track his movements a few days ago, when he hijacked a car at gunpoint, then shot a 15-year old boy as he walked to school. And to insure that his victim was dead, shot him nine more times as he lay on the ground.

1/24/22 On January 13 a beloved UCLA graduate student, Brianna Kupfer, 24, was fatally stabbed while working alone in an "upscale" Los Angeles furniture store. Her alleged assailant, Shawn Laval Smith, 31, was soon arrested. Smith, who is apparently homeless, has an extensive criminal record. He was on bail pending trial for felony "firing a flare gun into a moving vehicle with a child inside" in South Carolina in 2019, and was at large after violating probation for felony assault on a Daly City, Calif. police officer in 2021. Why that arrest didn't lead South Carolina to revoke his bail isn't known.

9/1/21 In September 2018 a 29-year old Chicago man, Rayon Allen, struck and killed an elderly pedestrian while recklessly passing another car. He tried to pry the body loose from his tires, then sought to steal a car. Allen eventually pled guilty to reckless homicide and got 30 months probation and drug counseling. On August 29, while still on probation, he ran over two pedestrians and a bicyclist, injuring two critically. Allen was arrested for DUI and leaving the scene. And he was released again.




Did you enjoy this post? Be sure to explore the homepage and topical index!
Home Top Permalink Print/Save Feedback
---
RELATED POSTS
Bail and Sentence Reform special topic
A Broken "System" Cause and Effect A Stitch in Time Catch and Release II
Reform and Blowback Doing Nothing, Redux Missed Signals Hidden in Plain Sight
---
Posted 12/4/11
Ousting Occupiers on its own schedule, with sensitivity and attention to detail
For Police Issues by Julius (Jay) Wachtel. "You have to agree that this is not your grandfather's LAPD." Connie Rice's reaction undoubtedly perplexed some of her admirers. After all, only a short time earlier, during the early morning hours of November 30, more than a thousand cops swarmed over the City Hall lawn, shut down the Occupy encampment and arrested nearly 300 protesters.
Yet the well-known civil rights activist and long-time LAPD critic couldn't be more pleased. Her feelings were shared by legal observers, ministers and rabbis who circulated through the site, keeping a wary eye on cops as they hauled campers away. Pam Noles, a protester and onsite monitor for the National Lawyers Guild, which supports the Occupy movement, praised everyone for keeping it peaceful: "The LAPD had their A game on....Both sides did what they had to do."
Just what this "game" would be was decided well in advance. Determined not to emulate the chaos in Oakland, where cops hammered protesters with clubs, rubber bullets and tear gas, or the debacle at the University at California at Davis, where a campus police Lieutenant doused a line of students with pepper spray, Chief Charlie Beck resisted City Hall pressures to dismantle the camp while officers dialogued with protesters. LAPD resorted to arrests on only one occasion, when a crowd of Occupiers left their encampment, swarmed over an intersection and blocked traffic.
Most of L.A.'s politicos had come out in support of the protest early on. But after nearly two months it became increasingly clear that some protesters intended to camp out indefinitely. With efforts to come to a mutually acceptable solution floundering – Occupiers couldn't agree amongst themselves to accept free office space from the city in exchange for clearing the lawn – LAPD declared the campout an unlawful assembly and set November 29 as the deadline for protesters to leave or face arrest.
Click here for the complete collection of strategy and tactics essays
Still, Monday morning came and went with nothing more than a couple of cops placidly walking through the camp. Of course, what they were doing – inventorying tents – presaged that the end was near. By then those who would leave had done so, leaving behind a core that vowed to remain until arrested. Yet even they gave assurances that they would submit peacefully. It was going exactly how Chief Beck intended.
Not quite five years earlier it was a different story. On May 1, 2007 thousands of activists and ordinary citizens assembled at MacArthur Park, in Los Angeles' Pico-Union district, to protest Federal immigration policy. Although permits had been secured to hold the event, dozens of protesters turned rowdy, spilling into the streets, blocking traffic and throwing objects. Officers were caught unprepared. They declared an unlawful assembly and chased their quarry into the park, where families and members of the media had gathered. Video footage depicts cops indiscriminately flailing batons, firing rubber bullets and knocking down innocent persons who had no idea that anything had gone wrong.
It was an ugly incident. Then-chief Bill Bratton, who wasn't present (he chose to attend a party and left the matter to subordinates) took blame for the undisciplined response. More than dozen cops received departmental sanctions. Los Angeles paid out more than $13 million to settle claims of excessive force.
Fast forward to 2011. Memories of the 2007 mêlée and the mishandling of Occupiers elsewhere convinced Chief Beck to take it slow and easy. He directed managers to establish a working relationship with protesters and plan for the day when officers might have to move in. Thanks to a good script and plenty of rehearsals both cops and protesters enjoyed a Hollywood ending.
If only all policing could be done this way. As we pointed out in "Making Time," the urge to act quickly has repeatedly led officers to make poor decisions, occasionally with tragic consequences. In the case of the Wall Street protests that swept the country, pressures to give Occupiers the bum's rush came from many sources, both inside and outside the police. Even in Los Angeles, where protesters were received favorably, impatience quickly set in. One day before LAPD moved in a story in the L.A. Times suggested that police delays emboldened protesters and made their eventual expulsion more risky. Chief Beck felt obliged to respond:
This is the Los Angeles Police Department. No one is more capable of laying down the law than we are. No one should have any illusions that this will be a difficult crowd management [task] for us. No one should have any illusions that this [the delay] is a sign of weakness, inability or lack of will from the Police Department.
Most Occupiers are ordinary citizens, fed up like the rest of us with the economic inequality that has ripped at the nation's social fabric. If they choose to protest while others grin and bear it, that's their privilege, and the attention that they've brought to the underlying problem may be well worth sacrificing a City Hall lawn or two. In any case, however one feels about the efficacy of their methods, it really doesn't have to be police versus protesters, and for reminding us of that we have the good chief to thank.
As history has repeatedly demonstrated, things could have turned out quite differently. Cops go on duty to solve problems, not back away. They quickly learn that even the most "ordinary" citizens can be dangerous, and that gaining voluntary compliance – a must, as no one can fight their way through a shift – requires a certain fortitude of purpose. Officers are nearly always outnumbered, often massively so, and they know that timidity and indecision can encourage adversaries to take advantage, with potentially lethal consequences.
To be sure, officer personalities differ, and identical factual circumstances can lead to completely different outcomes. Still, the lessons that cops learn on patrol produce a working personality that is attuned to the unpredictable, stress-inducing contingencies of making stops and taking calls. Such skills aren't optimized for handling demonstrations, where First Amendment rights and political realities require that officers shrug off levels of rowdiness and disrespect for authority that they wouldn't (and perhaps shouldn't) tolerate elsewhere.
Be sure to check out our homepage and sign up for our newsletter
Chief Beck's singular accomplishment was to hold down the temperature. Officers got to know protesters, reducing the fear factor and making it less likely that, come D-Day, one side would misread the other's intentions. Regularly placing uniformed cops onsite made their presence less threatening. And when it came time to clear the encampment, Chief Beck gave days of notice, then delayed as the deadline passed to give everyone plenty of time to leave. At execution officers entered well-mapped territory in small, controlled groups, with civilian monitors present to remind everyone to mind their p's and q's. Everyone – police and protesters alike – knew what to expect and misunderstandings were relatively few.
Successfully managing a politically-charged event of this scale requires time, sensitivity and superb attention to detail. LAPD took their time and did it right. And in the tinderbox that is American society that's not a little thing.
UPDATES (scroll)
9/6/23 New York's attorney general sued NYPD over "widespread abuses" in how it policed protests that followed the killing of George Floyd. Among other things, officers allegedly boxed in ("kettled") citizens and mercilessly beat them with batons. To settle things NYPD just agreed to fundamentally revamp its approach. "Kettling" is forbidden, and a tiered system of de-escalation will be used. Groups representing detectives and sergeants have signed off on the deal. But the largest street officer union, the Police Benevolent Association, said "no."

8/4/22 One evening last May a group of Federal DHS agents drove their marked vehicles into a group of abortion rights protesters who were dispersing after a demonstration. That encounter, which took place a half mile from the US Courthouse that the agents guard, created a major confrontation that LAPD had to come in and resolve. Police said they did not call in the Feds, which typically have no authority in such matters. LAPD Chief Moore said he's contacted DHS to assure "clear coordination" in the future.

6/27/22 Caught amidst the abortion furor, cops and the media. In Los Angeles, the latter complain that police are treating them the same as protesters, ignoring guidelines that are supposed to allow credentialed reporters access to controlled space. A photo depicts two LAPD officers, one bedecked with tattoos, using batons to roughly shove at a photojournalist during a pro-abortion rally in the central city.

10/15/20 LAPD's expansive use of less-than-lethal weapons that fire rubber bullets is being criticized for causing grievous injuries when used to disperse protesters and members of unruly crowds. Although police rules require aiming "at the belt line," projectiles recently fired after a basketball gathering was declared an unlawful assembly took out a man's eye, lacerated another's cheeks and broke a facial bone and took out a photographer's teeth. An ongoing lawsuit by Black Lives Matter accuses officers of using the weapons to "incapacitate."
3/9/20 "Policing Protests," a new report funded by the Guggenheim Foundation and the COPS office, reviews clashes between police and Occupy protesters after Ferguson. It suggests, among other things, that police avoid a militarized response, promptly establish communication with protesters, emphasize their support for legal forms of expression, focus enforcement on violent, dangerous conduct, and avoid acting in ways that might align ordinary protesters with their more radical peers.
Did you enjoy this post? Be sure to explore the homepage and topical index!
Home Top Permalink Print/Save Feedback
---
RELATED POSTS
Cops Need More Than Body Armor A Delicate Balance Making Time
---
Posted 10/30/11
Can police best help a democracy flourish by intervening or by artfully holding back?
"People across America were disgusted by what they saw here. Millions have been inspired by you because, the next night, you didn't go away. You have altered the national discussion."
For Police Issues by Julius (Jay) Wachtel. Firebrand documentarian Michael Moore was referring to a series of incidents in Oakland that began with the arrest of ninety-seven "Occupy" activists who refused to leave an illegal encampment early last Tuesday. That evening a group of four-hundred demonstrators marched on the site intending to take it back. Thus far there had been no injuries of consequence, but as tempers flared what many feared would happen did. A few hotheads hurled paint and rocks at a skirmish line of officers who blocked the way. Police responded with batons and tear gas. A canister struck an Iraqi vet in the head and sent him to the hospital in critical condition.
City officials expressed remorse and visited with the injured man's family the next day (he suffered a skull fracture but his condition has improved.) Once the plaza was cleaned protesters were allowed to return but cautioned not to camp overnight. They not only ignored the warning but kicked things up a notch, calling for a citywide general strike to take place Tuesday, November 1.
There is precedent. Sixty-five years ago the famous Oakland labor strike of 1946 shut the city down for two days. Unlike what Occupy intends, the event began with a spontaneous walkout by retail workers. When city officials sent in police to protect strikebreakers and make sure that supplies got through organized labor called a general strike, and soon the streets of Oakland were flooded with tens of thousands of angry members of the working class.
Click here for the complete collection of strategy and tactics essays
A major strike carries risks to public safety and could further damage Oakland's fragile economy. Even so, labor and community leaders have lent their qualified support. Union members seem particularly enthused. One who told reporters that the financial crisis badly hurt his family put it quite plainly: "It looks like we're on course to be the next 1946."
Soon after the 1946 strike municipal elections transformed the composition of Oakland's city council from labor-hostile to labor-friendly. But in recent decades the jobs that brought scores into the middle class have disappeared, reducing the influence of unions and possibly causing Oakland officials to think of Occupiers as extremists. Whether their tone-deafness will return once Michael Moore and his entourage have left is impossible to predict. In any event, the reoccupation seems temporarily secure. Mayor Jean Quan, who heartily endorsed the initial police response, seems thoroughly chastened. Acting police chief Howard Jordan confirmed that cops wouldn't be going back in; officer presence, he emphasized, would be "very, very minimal." Given what his depleted department may face if the strike actually takes place (80 officers were laid off last year) it could hardly be otherwise.
Oakland has become the poster child of what can happen when city leaders forget that in a democracy the elite must occasionally pay attention to the rabble. That's apparently a lesson that even hyper-liberal places such as San Francisco must periodically relearn. Just across the bay, its own entourage of Occupiers were happily encamped when rumors spread of an impending raid. That night a gaggle of union bosses and politicians showed up and cops kept their distance. Volunteers clean the grounds, porta-potties are in place, and by all appearances the campers will be there for a good while longer.
Prompted perhaps by the Oakland debacle some "occupied" cities have adopted a warily permissive approach. In Los Angeles, where the mayor seems most concerned that the month-long campout will ruin the expansive lawn that graces city hall, police insist there is no timetable. "We're still working as best we can and trying to be cooperative [with Occupy]," said a commander, who also mentioned that whatever happens the department will do its best to avoid using tear gas. Meanwhile in Occupy's birthplace, New York City, protesters face a far more daunting challenge than the cops: the weather. Perhaps they can adopt the ways of their counterparts in other chilly climates. Occupy Boston has a greenhouse-like affair in the works, while Occupy Maine set up a heated outdoor room and has asked for permission to stack bales of hay as a windbreak.
In "First, Do No Harm" we displayed a photo of a transient snoozing in front of offices closed for a holiday. Readers were asked what a passing cop should do. After setting out a couple of real-life examples with very bad endings the answer seemed all but obvious: sometimes doing nothing is best.
If only all situations were as simple! Yet the principle of avoiding needless intrusion is the same. Other than in a few situations, such as domestic abuse, police have full discretion in deciding whether, when and how to act. Circumstances can easily make mechanistic responses impractical, unwise or unjust. In "Who Deserves a Break?" we examined the example of a student who is caught with a switchblade in his pockets. We argued that the implicit threat to public safety tilts the scales in favor of making an arrest, and that's so whether the youth attends a Christian college (as in the example) or not.
Here we see it differently. To be sure some anarchists and assorted ne'er do-wells have infiltrated the ranks of the protesters. Yet by all accounts most Occupiers seem sincere, peaceful and committed to reforming an economy that badly needs repair. Their choice to take the message to the streets follows in a tradition that Americans have held dear since the days of the original "Tea Party." By making reasonable accommodations – suspending no-camping rules, furnishing portable toilets, and so on – enlightened officials aren't threatening the Constitution: they're defending it. They're also defusing needless friction with a public that cops very much need on their side, in good times and bad.
Be sure to check out our homepage and sign up for our newsletter
Sometimes the best solutions come from afar. In London, which hosts its own Occupy-like movement, officials at St. Paul's Cathedral are turning to the courts to evict hundreds of activists camped outside. A proposal by the deputy mayor in charge of policing would use high-pressure sprinklers to shoo protesters away. But some citizens can't understand why all the fuss. A middle-aged Londoner who came to mass thought that the economy was a perfect cause for the Church. "I would like to see the tents and the church stay together. This is what the church should be preaching, anyway, and nobody is doing any harm here. I am happy to be able to see both things."
And to that all we can add is "Amen."
UPDATES (scroll)
6/27/22 Caught amidst the abortion furor, cops and the media. In Los Angeles, the latter complain that police are treating them the same as protesters, ignoring guidelines that are supposed to allow credentialed reporters access to controlled space. A photo depicts two LAPD officers, one bedecked with tattoos, using batons to roughly shove at a photojournalist during a pro-abortion rally in the central city.

10/15/20 LAPD's expansive use of less-than-lethal weapons that fire rubber bullets is being criticized for causing grievous injuries when used to disperse protesters and members of unruly crowds. Although police rules require aiming "at the belt line," projectiles recently fired after a basketball gathering was declared an unlawful assembly took out a man's eye, lacerated another's cheeks and broke a facial bone and took out a photographer's teeth. An ongoing lawsuit by Black Lives Matter accuses officers of using the weapons to "incapacitate."
3/9/20 "Policing Protests," a new report funded by the Guggenheim Foundation and the COPS office, reviews clashes between police and Occupy protesters after Ferguson. It suggests, among other things, that police avoid a militarized response, promptly establish communication with protesters, emphasize their support for legal forms of expression, focus enforcement on violent, dangerous conduct, and avoid acting in ways that might align ordinary protesters with their more radical peers.
Did you enjoy this post? Be sure to explore the homepage and topical index!
Home Top Permalink Print/Save Feedback
---
RELATED WEBSITES AND REPORTS
Congressional Budget Office: Income Inequality
RELATED POSTS
RIP Proactive Policing? A Very Hot Summer LAPD Got it Right First, Do No Harm
---
Posted 10/9/11
Pilots use checklists. Physicians, too. Why not detectives?
I do believe I should have photographed the flumazenil on the floor before I put it on the table. Yes, in hindsight I would have done that.
For Police Issues by Julius (Jay) Wachtel. One would think that if there was a time to dot all the i's and cross all the t's this would have been it. So why did the coroner's investigator pick up that object before photographing it, violating a rule that every rookie knows?
It turns out that the vial found in Michael Jackson's bedroom contained a drug used to reverse the effects of benzodiazepine, a commonly prescribed sedative for treating insomnia. Flumazenil is useless for overdoses of propofol, the powerful surgical sedative that caused the troubled singer's death.
Dr. Conrad Murray is on trial for involuntary manslaughter. He allegedly overdosed Jackson with propofol, which has no known antidote, then failed to adequately monitor him. When the physician discovered that Jackson wasn't breathing, he supposedly threw a Hail Mary pass by administering flumazenil. Murray's lawyers vigorously disagree. What really happened, they insist, is that Jackson self-administered a lethal dose of propofol while the doctor wasn't looking. They even pointed to the syringe that he supposedly used.
Alas, Jackson's fingerprints aren't on it. But the investigator's are. That's welcome news for the defense, which is expected to argue that careless handling wiped away evidence of what really took place. It's their best shot. Jackson's fingerprints haven't been found on any syringes or medicinal containers, so unless Murray's legal team can plant doubts about the quality of the state's forensic efforts speculation that the pop star acted as his own physician will remain just that.
Click here for the complete collection of strategy and tactics essays
This odd case aside, poor police work can be very consequential. Last week a Texas man was freed after serving 25 years for murdering his wife. He had always insisted he was innocent, and he was right. (Click here for an account from the Innocence Project, and here and here for two articles in a series by the Austin Statesman.)
On August 13, 1986 Michael Morton left for work. Later that day a neighbor stopped by and discovered the body of Morton's wife, Christine. She had been beaten to death. Morton was promptly charged. Prosecutors presented a case that focused on the couple's quarrels and Michael Morton's dissatisfaction with his wife's weight and their sex life. To enhance the case a coroner used a questionable process to set the time of death as the previous evening, while the couple was home.
Jurors returned a guilty verdict in less than two hours. A half-hour later they came back with the sentence: life imprisonment. That was Michael Morton's first lucky break.
His second was when he gained representation by the Innocence Project. Earlier this year a private lab performed DNA testing on a bandanna found near the home but not introduced at trial. Bingo! Analysts reported that it bore the victim's blood as well as genetic material from a third party. That person was identified as an ex-con with a lengthy, multi-state record, including convictions for burglary and assault with intent to kill. He is now a prime suspect in two murders: the killing of Christine Morton and the beating death of an Austin woman two years later.
In their haste to get Michael Morton authorities ignored or glossed over several significant facts:
Two days following the murder the victim's Visa card was used and recovered at a store in San Antonio.

A $20 check made out to Christine Morton was cashed nine days after her murder. Her endorsement had been forged.

One day after the murder a neighbor told a deputy that a stranger's vehicle had parked near the Morton's residence on several occasions, and that its driver walked into the woods behind the home.

In a recorded phone call with police eleven days after the murder, Christine Morton's mother related a conversation with the couple's three-year old boy, who was at home when the killing took place:

Child: "Mommy's crying. Because the monster's here. He hit Mommy. He broke the bed."
Grandmother: "Is Mommy still crying?"
Child: "No. Mommy stopped."
Grandmother: "Then what happened?"
Child: "The monster threw a blue suitcase on the bed. He's mad."
Grandmother: "Where was Daddy, Eric? Was Daddy there?"
Child: "No. Mommy and Eric was there."
A blue suitcase was found lying on Christine Morton's body. That and the child's words led the woman to conclude that her son-in-law was innocent. Just like he said, her daughter had been murdered by an intruder. But she later declined to speak with defense lawyers. And no, they were never told about the audiotape or the other unfollowed leads.
Atul Gawande is a friendly guy. He's also an author, a writer for The New Yorker and, in his spare time, a surgeon and professor at Harvard medical school. His most recent book, "The Checklist Manifesto," begins with the story of a girl who survived a lethal accident thanks to a coordinated effort by team of medical specialists. Paragraphs later he describes a complex case in which he participated that began equally well but nearly came to a tragic end because of a belatedly detected infection.
According to Dr. Gawande there are 150,000 post-surgical deaths each year. He estimates that half are avoidable. "However supremely specialized and trained we may have become," he writes, "steps are still missed. Mistakes are still made...Our great struggle in medicine these days is not just with ignorance and uncertainty. It's also with complexity: how much you have to make sure you have in your head and think about. There are a thousand ways things can go wrong."
Dr. Gawande's book has a simple goal: to insure that the i's get dotted and the t's get crossed. To keep things on the right track it suggests that medical professionals do what pilots do – use a checklist. (Click here for one that Dr. Gawande developed for the World Health Organization.)
Of course, the concept of a checklist is nothing new. Nearly every activity from bird watching to industrial processes has one. And yes, there are some for law enforcement. Click here for one that's specific to homicide investigation. Using it might have spared the coroner's investigator assigned to the Michael Jackson case considerable embarrassment (item H-5-a-4: "Photograph specific items of evidence such as footprints, cartridge cases, weapons, etc. as observed in place at scene...") It might have prodded detectives investigating Christine Morton's murder to expand their inquiries beyond what they thought "obvious." For example, sections H-16 and H-17 mention a need to look into the victim's finances and the theft of money or property.
Be sure to check out our homepage and sign up for our newsletter
Just like they've helped aviators and physicians, comprehensive, well-designed checklists can guide investigators through the complexities of the real world. If taken seriously they might also help neutralize tendencies towards tunnel vision. To accomplish these goals checklists must be living documents that require participation and endorsement by each officer who contributes to an investigation. They should be shared with prosecutors and made discoverable by the defense.
What Harvard's Dr. Gawande learned in the school of medical hard knocks is nothing new to criminal justice. As a recent example in Los Angeles demonstrates, human frailties and the exigencies of policing have the potential of producing outcomes that are every bit as disturbing as medical goofs. If using checklists can help – and there's every indication they can – let's put our heads together and get busy.
Did you enjoy this post? Be sure to explore the homepage and topical index!
Home Top Permalink Print/Save Feedback
---
RELATED POSTS
The Tip of the Iceberg Physician, Heal Thyself Rush to Judgment (Part II) Hidden in Plain Sight
---
Posted 9/10/11
Specialized teams may be dandy, but patrol still counts
For Police Issues by Julius (Jay) Wachtel. Nearly forty years have passed since a notable (some would say, notorious) experiment in Kansas City shook the foundations of American policing, bringing into question its organizing principle and laying the groundwork for a flood of empirical research into strategies of deployment.
In 1972 then-Chief Clarence Kelley (he would soon leave to head the FBI) invited George Kelling and his colleagues at the Police Foundation to use his department to test the proposition that routine patrol prevents crime. In what became known as the Kansas City Preventive Patrol Experiment (PPE), fifteen patrol areas were divided into five sets of three demographically similar beats, with each assigned one of three dosages (no change, more patrol, less patrol).
There's never been any question that policing deters crime. One need only to turn to such naturalistic "experiments" as the police strikes in Boston and Montreal, the New York City blackouts and the destruction and looting that accompany mass disorders to see what takes place when hooligans think that they can rampage unmolested.
Wherever the threshold of general deterrence may lie, it's likely to depend in large part on two factors: the visibility of police and their perceived effectiveness. Patrol officers play a key role. When not responding to calls for service they're expected to brace suspicious characters, check out crime hot spots, help detectives solve crimes, effect on-view arrests, look for fugitives, corral misbehaving probationers and parolees, and so on.
Click here for the complete collection of strategy and tactics essays
According to the PPE report, that's exactly how Kansas City cops went about doing their jobs. Naturally, one would think that all this activity had great deterrent value. But one would be wrong. When outcomes were measured one year later, the crime rates in "proactive" beats (more patrol), "reactive" beats (no patrol) and the single-car "control" beats (no change) were about the same. Ergo, patrol dosage didn't matter.
Not so fast, said the critics. Researchers openly conceded that differences in dosage had been attenuated by factors outside their control. Some officers didn't obey experimental protocols. Patrol cars frequently crossed into other areas while running back-ups and responding to calls. Although the report's authors didn't think that the contamination was of sufficient magnitude to affect their findings, several academics, most notably Richard Larson, disagreed. His objection, that patrol dosages didn't vary to the extent required to adequately test the hypothesis, is supported by the fact that arrest rates were about the same regardless of dosage, a curious outcome indeed.
So far there's been no attempt to replicate the PPE. Turning the messy environment of patrol into a laboratory is apparently more challenging than it seems. In "Policing for Crime Prevention" (DOJ, 1998) Professor Larry Sherman reviewed the very sketchy literature on random patrol and concluded that evidence in its favor was virtually non-existent. On the other hand, considerable evidence had accumulated that focused enforcement efforts such as directed patrol and hot-spot policing could reduce crime and violence.
Ten years later an analysis by Dr. Anthony Braga concluded that hot-spot policing held a lot of promise. An anti-gun campaign in high crime areas of Kansas City took weapons off the street and reduced armed violence. A hot-spot program in Jersey City slashed prostitution and drug offending without incurring substantial displacement effects; even better, improvements persisted even after police withdrew.
Few such projects are conducted under anything that resembles controlled conditions, so interpreting their outcomes is often a guessing game. In 2009 the Philadelphia Foot Patrol Experiment, by Dr. Jerry Ratcliffe and his colleagues at Temple University, rose above the crowd by returning to the gold standard of scientific research – an experiment. From all appearances they seem to have done a far better job of it than the PPE.
During a three-month summer period pairs of new police academy graduates were assigned to sixty walking beats. Each was matched to a control area with similar rates of violent crime. Officers were essentially left to craft their own strategies. Some worked to develop relationships with residents and merchants, while others spent their time watching for possible offenders.
At project's end researchers compared the crime counts. After accounting for a displacement effect there were 53 fewer violent crimes overall in the experimental area, about one less violent crime per beat and a 23 percent improvement over the control area. Statistically significant gains were demonstrated by experimental beats whose pre-intervention violent crime counts were in the upper forty percent, with the most violent areas reaping the greatest benefits. (The statistical significance of the difference between pre- and post- intervention violent crime counts was .05 for beats with pre-intervention scores in the 60th. percentile, and <.001 for those in the ninetieth percentile.) Proactive policing rose sharply. As might be expected, the largest gain, 64 percent, was in pedestrian stops. Arrests also increased, but at a substantially lower rate (13 percent.)
Philly is still experimenting. Using funds from NIJ's "Smart Policing Initiative," which supports promising, evidence-based crime-fighting strategies, PPD is testing different approaches at eighty "micro-sites," 20 with foot patrols, 20 problem-solving, 20 targeting chronic offenders, and 20 controls.
Indications are that hot-spot and similar approaches can help, especially when crime problems are well-defined and relatively contained and treatment dosages are substantial. (For news clips about recent efforts, including their pros and cons, click here). Still, at a time when shrinking resources make lengthy delays in police response the norm, some agencies have been returning officers to patrol. It's happening in Chicago, whose new chief Garry McCarthy disbanded specialized crime-fighting teams to help make good on the mayor's promise to put 1,000 more cops on patrol. Meanwhile the new chief at San Diego PD has dismantled long-standing community and problem-oriented initiatives. With eighty percent of patrol time taken up by emergency response, he insists that his hands are tied.
Be sure to check out our homepage and sign up for our newsletter
In America most policing is locally funded, so staffing and deployment varies. Yet as the economy continues to reel the future of specialized units seems cloudy. With no relief on the horizon, it may be worthwhile to study how best to integrate hot-spot policing and other crime-fighting strategies into the patrol function, which is after all the basic mechanism for delivering police services in the U.S. Perhaps the time has arrived to stop letting the cart lead the horse.
Did you enjoy this post? Be sure to explore the homepage and topical index!
Home Top Permalink Print/Save Feedback
---
RELATED POSTS
Cops Aren't Free Agents Good Guy/Bad Guy/Black Guy (I) (II) Location, Location, Location
Turn Off the Spigot Slapping Lipstick on the Pig I II III Too Much of a Good Thing?
RELATED ARTICLES AND REPORTS
NIJ Strategic Cutback Management DOJ Smart Policing Initiative Hot-Spot Strategies
NIJ Policing for Crime Prevention
---
Posted 7/1/11
TRANSLATIONAL? THAT'S RIGHT, TRANSLATIONAL
A new paradigm seeks to bridge the gap between theory and practice
For Police Issues by Julius (Jay) Wachtel. Translational? Um, what's that?
It's criminology's new direction, that's what. In a recent speech NIJ's new Director, John Laub, on leave from his position as Distinguished Professor of Criminology at the University of Maryland, said that he first learned of the tongue-twister through his daughter, a physician. It turns out that "translational research" (root: "translate") is a scientific approach that reaches across disciplines to devise, test and expeditiously implement solutions to pressing problems.
Wait a minute: isn't that supposedly the purpose of applied research? Well, according to no less an authority than Wikipedia there is a difference. Applied research is mostly concerned with incremental gains. Translational research, on the other hand, is the nimble cousin of basic research, able to accomplish paradigmatic shifts but far more swiftly.
Translational research has become popular in medicine. That makes sense: when lives are at stake it's important to move quickly from theory to practice. Dr. Laub feels the same urgency about crime and justice. Hence the theme of this year's National Institute of Justice Conference, "Translational Criminology: Shaping Policy and Practice With Research."
For an example of a translational approach we turn to the "National Police Research Platform," an NIJ-funded initiative that seeks to measure police effectiveness. Housed at the University of Illinois at Chicago, the project is in its third year, with twenty-eight agencies enrolled. At a presentation on June 20 its director, Dr. Dennis Rosenbaum, emphasized that the intention is to eventually create a nationally representative sample of three-hundred departments of various size.
Click here for the complete collection of strategy and tactics essays
To date the Platform has issued ten reports in areas including officer stress, supervision, training, technology and integrity. All data has been gathered through online surveys of sworn personnel, civilian employees and ordinary citizens. It is anticipated that in time other sources of information will be incorporated as well. There are also plans to collect data longitudinally and to test new strategies with randomized trials.
For now, the Platform has concentrated on providing information rather than implementing change. At the June 20 session Dr. Gary Cordner, Professor of Criminal Justice at Kutztown University said that prompt feedback lets agencies self-assess in a timely fashion, compare themselves to overall norms and take such measures as they deem necessary. As an example he mentioned a survey about first-line supervision. One of its findings was that 62 percent of supervisors, the largest proportion, placed "a lot" of emphasis on keeping officers out of trouble, while only 19 percent felt that way about arrest and citation productivity. Responses seemed fairly consistent across agencies. That, according to Dr. Cordner, isn't always the case. In another survey, officers in smaller agencies thought that discipline was much more fairly administered than those in large agencies.
Well, that seems interesting. So what else is going on? Check out CrimeSolutions.gov. Introduced at the 2011 conference, NIJ's newest stab at translational research reports on the effectiveness of selected criminal justice programs in corrections, courts, drug abuse, juvenile justice and law enforcement. Using a highly structured process NIJ analysts review existing, published evaluations and at the end assign one of three grades: effective, promising, and no effect.
To date CrimeSolutions has rated 22 policing programs. Seven were awarded the highest grade and fourteen received the intermediate score. Only one was deemed to lack a significant benefit.
Surveying officers, `a la the Platform and rating criminal justice programs, `a la Crime Solutions is all well and good. But a truly "translational" approach would go far beyond collecting opinions and performing secondhand reviews. After all, translational research is supposed to use basic science to correct critical shortcomings, and not in turtle years. We're talking something like the race to the moon, a concerted effort that in a few years accomplished what might have otherwise taken centuries.
Yes, NIJ has a measly budget. Still, if Dr. Laub is set on going "translational" he might consider taking on a couple of critical issues, then provide sufficient resources to see researchers and practitioners through the entire process. One that comes to mind is the highly consequential matter of ballistic vests, whose wearability and protective characteristics have hardly advanced in decades while the lethality of firearms that cops face has skyrocketed. (For related posts, click here and here.)
What do you say, Dr. Laub? Can NIJ do like NASA and bring together scientists and engineers from government and industry to tackle this urgent need, "translationally"?
Be sure to check out our homepage and sign up for our newsletter
Well, that's enough of coining new terms. Watch for more about the 2011 NIJ Conference in forthcoming weeks. And welcome to the fifth year of Police Issues!
Did you enjoy this post? Be sure to explore the homepage and topical index!
Home Top Permalink Print/Save Feedback
---
RELATED POSTS
Cops Aren't Free Agents Bigger Guns Aren't Enough DNA's Dandy, But What About Body Armor?
---
Posted 3/27/11
Warrant service is killing cops
For Police Issues by Julius (Jay) Wachtel. Aggressive policing is back in style. With support from NIJ and university-based researchers, police departments across the U.S. have implemented a variety of hard-hitting, targeted approaches to combat violence and get guns off the street. Assessments of their efforts have been largely positive. Of course, whether it's Boston's new and improved Ceasefire, Memphis' Blue CRUSH or Philadelphia's Operation Pressure Point, in the end it all comes to the same thing: cull violent men from the streets and send them to prison for a very long time.
What's seldom pointed out, though, is that not all the bad guys get "culled" right away, and many who do are released before trial. Indeed, for the most serious crimes, such as murder, enough evidence to file charges may not be developed for weeks or months, leaving dangerous men – the "worst of the worst" – free to roam the streets until they're picked up, if at all, on warrants.
Over the years virtually every major law enforcement agency has created specialized warrant service teams. Many work in concert with task forces organized by the U.S. Marshals Service. Dubbed Fugitive Apprehension Strike Teams (FAST), these groups reportedly arrested more than 90,000 fugitives, including nearly 1,000 murder suspects, during 2005-2009. In February 2011 the Dallas-Fort Worth FAST, which includes U.S. deputy marshals and officers from the Dallas and Fort Worth police and sheriff's departments, arrested its 10,000th. fugitive since the team's 2004 inception. Two of its most recent captures were being sought for aggravated robbery; its 10,000th. was a man wanted for the aggravated sexual assault of a child.
Click here for the complete collection of strategy and tactics essays
Warrant service can be very productive. Just this month, the Trenton, New Jersey sheriff's fugitive unit worked with deputy U.S. marshals from the New York/New Jersey Fugitive Task Force to capture four highly sought-after fugitives, including three gang members, on warrants charging drug dealing, burglary, aggravated assault and felony weapons offenses. One suspect was surprised at work. Two others were caught at their rural "hideout" and gave up without a struggle. So did the fourth. A member of the Latin Kings, he had bolted into a home and hid in a closet.
Regrettably, not all encounters end so peacefully. And the toll this year has been frightening. On January 20 Miami-Dade detectives Amanda Haworth, 44 and Roger Castillo, 41 were working with a Marshal's fugitive task force hunting a wanted killer. They tracked the man to an apartment and were let in by his mother. Gunfire broke out; by the time it was over both detectives and the wanted person lay dead.
Four days later another tragedy played out in St. Petersburg, Florida. Officers with a fugitive task force were told that the ex-con they sought for aggravated battery was hiding in an attic. They called for backup. Two St. Petersburg police officers not on the warrant team, Jeffrey A. Yaslowitz, 39 and Thomas Baitinger, 48 entered the home and were shot to death. A deputy U.S. Marshal was seriously wounded.
Three weeks later, on February 16, West Virginia Deputy U.S. Marshal Derek Hotsinpiller, 24 was killed and two colleagues were wounded when a man wanted for drug trafficking opened fire with a shotgun. Catastrophe then struck in St. Louis. On March 8 Deputy U.S. Marshal John Perry, 48 was killed and another marshal and a police officer were wounded by a fugitive who ambushed them inside a residence. A tactical unit found the man dead from gunshot wounds an hour later. He was being sought on drug and assault charges.
Members of fugitive squads train together and develop special expertise. However, they and the ordinary cops who come to their aid lack the firepower, protective gear and chemical weapons available to full-fledged SWAT teams. SWAT operations are planned with safety in mind. Locations are surrounded and neighbors evacuated. Suspects are called out or, if necessary, flushed out with chemical munitions. Few if any warrant teams are prepared to take such measures. It's not that they would want to. Turning felony arrests into major tactical events would seriously impair their productivity, allowing dangerous offenders to stay on the streets far longer, or as some fear, permanently.
Dallas PD nonetheless decided two years ago to tip the scales in favor of safety. On January 6, 2009 gang unit Corporal Norman Smith and other officers went to an apartment to serve a warrant for aggravated assault. They tried to use a pretext to get in but were met with gunfire. Corporal Smith was fatally shot in the face. Dallas PD promptly revamped training and procedures. Carrying ballistic shields and using standard "knock and announce" procedures are now required.
In a July 1998 overview of "pulling levers" NIJ endorsed the use of aggressive police tactics, including warrant service, as a way to help tame violent drug markets (photos depicting plainclothes cops raiding an apartment appeared on the journal cover.) To forewarn citizens and discourage potential criminals, it recommended that the following message be conveyed to the community in advance (boldface added):
We have three serious crackdowns ready to deploy. They will involve heavy police and probation presence, warrant service, and the like. Those arrested will receive special prosecutorial attention and, if convicted to probation, will be put on strict supervision probation regimes; groups and individuals with a history of violence will be screened for added attention by DEA and the U.S. Attorney. We will decide, over the next 2 weeks, where to direct those crackdowns. We will make our decisions based on whether, between now and then, there is any violence associated with your drug market....
Be sure to check out our homepage and sign up for our newsletter
Aggressive policing can have unintended consequences. It can anger residents of crime-impacted areas, cause anxious officers to mistakenly shoot innocent persons, and, as discussed above, lead to officer deaths and woundings. NIJ has been inexplicably silent about these side effects. Now that there's a new director on board – and a criminologist, no less – here's hoping that a more well-rounded approach will prevail.
UPDATES (scroll)
2/8/21 The two FBI agents killed while serving a search warrant on February 2 in Sunrise, Florida were shot dead by projectiles from an "assault-style" rifle that were fired through the front door. Three other agents were wounded. Their assailant, David Huber, 55, was being investigated for crimes against children. He committed suicide.
2/3/21 Two FBI agents were shot and killed as they prepared to execute a search warrant for a child pornography suspect at his Florida apartment. Special agents Daniel Alfin, 36, an agent since 2009, and Laura Schwartzenberger, 43, a fifteen-year veteran, specialized in such cases. They were apparently spotted through a doorbell camera. Three other agents were wounded, and two remain hospitalized. The as-yet unnamed suspect apparently committed suicide.
Did you enjoy this post? Be sure to explore the homepage and topical index!
Home Top Permalink Print/Save Feedback
---
RELATED POSTS
The Bail Conundrum Having Your Cake, and Eating it Too! R.I.P. Community Policing?
Too Much of a Good Thing? Making Time Slapping Lipstick I II III
RELATED ARTICLES AND REPORTS
US Marshal warrant teams profiled in the Washington Post NIJ home page on policing strategies
---
Posted 2/25/11
Police tactics remain stagnant while officer killings continue to rise
For Police Issues by Julius (Jay) Wachtel. The tragic murders of three St. Petersburg, Florida police officers in less than a month vividly demonstrates that even as the decades-long decline in violent crime continues, dropping from 506.5 to 429.4 per 100,000 population between 2000 and 2009 (preliminary figures indicate the rate continued falling in 2010), the threat posed to officers by armed criminals remains all too real.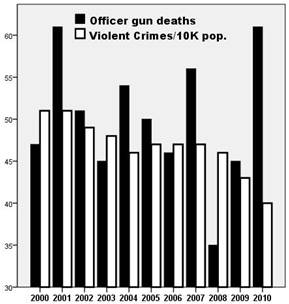 According to the FBI the number of officers feloniously shot and killed was fairly stable between 2000-2007, fluctuating between 45 and 61 per year. Although an abrupt, unexplained dip in 2008 brought the toll down to 35, gun deaths promptly climbed back to 45 in 2009. Although last year's FBI LEOKA data isn't in, the National Law Enforcement Officers Memorial Fund reported 61 officers killed by gunfire in 2010, matching the previous decade's high set nine years ago. What's more, the trend apparently continues, with sixteen officers felled by gunfire so far in 2011 compared with ten killed at this juncture last year.
Considering the relatively small numbers and fluctuation one can't conclude that officers face a heightened risk of being shot and killed. On the other hand, since society has apparently become less violent – the raw frequencies of violent crime are down along with the population-adjusted rates – one must wonder why cop killings aren't also on the decline.
Click here for the complete collection of strategy and tactics essays
If you've read our prior posts on such things, you'd know what we think – that the proliferation of firearms and their increased lethality likely play an important role. In the long run such issues are of course important. But for now let's consider some practical measures that might stem the toll.
---
On February 21, 2011 St. Petersburg, Florida police officer David Crawford responded to a nighttime prowler call. Spotting a youth who fit the suspect description, he parked his patrol car, took out a notebook and approached on foot. Crawford didn't know that the slight, skinny 16-year old had a record for auto theft and had just tried to break into a car. Nor that he was skipping school and running with a gang. Nor that he was armed with a .380 caliber pistol that he recently bought on the street for $140.
The youth abruptly turned around and opened fire. Four or five rounds struck officer Crawford in the torso, fatally wounding him. He returned fire but to no effect. And no, he wasn't wearing a ballistic vest.
The community reeled. Less than a month had passed since the murder of two other St. Petersburg officers. On January 24 a warrant-service team comprised of a St. Petersburg detective, a deputy sheriff and a US Marshal went to the home of the spouse of Hydra Lacy Jr., 39 to arrest the local thug on an aggravated battery warrant. A large, beefy man, Lacy had a prison record and a serious assaultive history, including an arrest for sexual battery. Police reports indicated that he might be armed with his wife's 9mm. pistol and that he told her he would shoot it out before going back to prison. The team, which had been seeking Lacy for weeks, was certain that he was inside. His wife answered the door. She quietly admitted that her husband was hiding in the attic. There were guns in the house, but she didn't know if he got one when he jumped out of bed.
A police K-9 officer, Jeffrey Yaslowitz, 39, was just coming off shift and offered to help. He and his dog found nothing at first. Officer Yaslowitz then boosted himself into the attic and confronted Lacy. The marshal soon joined him. The suspect seemed compliant and lay down on his stomach as though he was surrendering. Lacy then suddenly pulled a 9mm. pistol and began firing. Yaslowitz was mortally wounded and fell inside the attic. The marshal, whose injury was less severe, tumbled downstairs.
Officer Thomas Baitinger, 48 and others rushed into the home to rescue their colleagues. Lacy fired through the ceiling, killing Baitinger. After several additional exchanges of gunfire – Lacy was by then armed with officer Yaslowitz's .40 caliber pistol – officers were finally able to pull Yaslowitz down. It took a tactical team, an unsuccessful attempt at negotiation and the partial tear-down of the residence with heavy equipment to bring the episode to a conclusion. Lacy, who remained holed up throughout, was found dead of gunshot wounds.
---
What lessons can be gained from the murder of officer Crawford? Like other St. Petersburg cops he worked in a one-officer car. And that's in a city with a high crime rate – one ranking of cities over 75,000 population places it 370 worst out of 400 in serious crime, just one place short of Philadelphia and only eight shy of Newark.
Well, there are lots of arguments pro and con over one-officer units. Suffice it to say that the real reason for having them is that it provides twice the "coverage" for half the cost. Financial constraints and the apparent easing in violence has encouraged agencies everywhere to adopt the questionable practice, and by now the pattern is so entrenched that changing it is probably far-fetched.
Yet consider the downsides. First, there is the obvious peril of going one-on-one with anyone. (For a graphic example check out Dancing With Hooligans.) Then there's the difficulty of trying to keep a situation contained while running license plates and record checks and communicating with one's peers. And if the unexpected happens, which in police work means frequently, a solo officer may be so in the thick of things that calling for help is impossible.
On November 7, 2010, Riverside, California police officer Ryan Bonaminio pulled over a truck that had been involved in a hit-and-run. What officer Bonaminio didn't know was that the driver, Earl Green, 44, was a multi-convicted felon on parole, and that he had just stolen the vehicle from a rental yard. Green fled on foot, with Bonaminio in pursuit. At some point Bonaminio slipped and fell. Green jumped on the officer, took away his .40 caliber Glock pistol and shot him dead. Green was subsequently arrested and charged with first-degree murder.
Officer Bonaminio's murder spawned concern about Riverside's practice of running one-officer cars. (The city is no quiet burg, earning 210th. place out of 400 on the measure referenced above.) Chief Sergio Diaz promptly came out with a blistering repartee of critics "sitting at home eating Cheetos in their underwear." Well, while writing this piece your blogger was in his robe, sipping herbal tea. But during his brief experience piloting a one-officer car in a small community he remembers a certain encounter that could have easily ended in tragedy. And no, he was too busy fighting to reach for the mike. (His behind was saved by a citizen.)
---
Officers Yaslowitz and Baitinger had plenty of law enforcement company. Yet they too lost their lives. But how could it happen? One would think that going after a violent person ensconced in an attic and probably armed is a ready-made situation for a surround and call-out, to be followed by negotiation and, if need be, the use of chemical agents. That indeed is how SWAT eventually handled it, but only after two officers had already died.
Cops are can-do people. They're also prideful. One can certainly appreciate the desire to get the job done without having to call in tactical units. Not knowing the rules of engagement in St. Petersburg, we surmise that the warrant-service team, which to all appearances worked independently, made up their tactics on the fly and wound up involving other officers beyond their level of preparation.
That's not to say that SWAT is always a perfect solution. In Oakland: How Could it Happen? we wrote of the shooting deaths of four Oakland police officers in a single day. A wanted parolee who had just shot and killed two motorcycle officers was holed up in an apartment. A SWAT team converged on the scene. After an hour a decision was made to assault the premises. Two of the first officers to enter were shot dead as the wanted man fired through interior walls.
There is really no answer short of handling every arrest of a dangerous person with extreme care. On January 20, 2011 Miami-Dade detectives were looking for Johnny Simms, a 22-year old convicted drug dealer with a rap sheet for armed robbery. A notoriously violent man with tattoos depicting flames, a gun and the words "savage" and "10-20 life," Simms was wanted for the cold-blooded murder of a man he gunned down some months earlier.
Detectives went to an apartment where they knew Simms had been staying. They knocked on the door and were admitted by Simm's mother. Just then the suspect jumped into the room, gun blazing. Officer Amanda Haworth, 44 sustained a fatal head wound. Officer Roger Castillo, 41, who was standing just outside, was also stuck by a bullet and killed. Another detective came running around the complex and shot Simms dead.
---
One thing's for sure: if we really paid attention to experience, police tactics would be far more standardized than what presently seems to be the case. Officers wouldn't be routinely doing one-on-ones with possibly dangerous characters. Really, safety requires that we give up some efficiencies. Agencies that run one-officer cars should think it over. At a minimum they must set and enforce rules that prohibit lone-wolf foot pursuits and require that two units converge on every possibly risky contact.
Serving warrants on violent persons calls for a specialized approach, including surveillance, so that encounters take place in as safe and controlled an environment as possible. Tactical teams must either be in charge or present. And once they become involved, deviating from normal surround and call-out practices, such as what happened in Oakland, must be strongly discouraged.
Be sure to check out our homepage and sign up for our newsletter
Yes, there's one more thing. Wearing ballistic vests should be mandatory, even when it's hot and muggy. In DNA's Dandy, But What About Body Armor? we bemoaned the sad state of body armor, both as to its comfort and protective capabilities. We again call for a major effort in that direction. Hopefully, someone's out there listening.
Did you enjoy this post? Be sure to explore the homepage and topical index!
Home Top Permalink Print/Save Feedback
---
RELATED POSTS
"Friendly Fire" Oakland: How Could it Happen? Bigger Guns Aren't Enough
DNA's Dandy, But What About Body Armor? Dancing With Hooligans
---
Posted 2/18/11
HAVING YOUR CAKE, AND EATING IT TOO!
Two noted economists say we can reduce imprisonment and crime.
But what kind of crime?
For Police Issues by Julius (Jay) Wachtel. In these days of shrinking budgets who wouldn't want to take a bite out of crime while reducing prison populations at the same time? Think it's a pipe dream? In "Imprisonment and Crime: Can Both be Reduced?", the lead article in the February 2011 issue of Criminology & Public Policy, economists Steven Durlaf and Daniel Nagin argue that old-fashioned deterrence, if done right, can minimize the need to punish and incarcerate and save bucketfuls of cash along the way.
What "done right" means we'll get to later. First let's look at deterrence. Criminologists claim that punishment can deter two ways, by the severity of sanctions, and by the certainty that they will be imposed. Durlaf and Nagin are skeptical about severity. For one thing, criminals aren't particularly known for their long-range thinking. For another, three-strikes and "truth in sentencing" laws have already cranked up sentence lengths to stratospheric heights. Even if severity deters, additional increases in sentence length would yield only marginal benefits.
On the other hand, they suggest that there's plenty of room left to tweak certainty. Who's best to do it, and at the least cost? It's not corrections. To be sure, offenders can be sent back to prison should they violate the terms of their release. Hawaii's Project HOPE, which gets a lot of favorable mention in the article, discourages probationers from crossing the line by promptly jailing them for a few days whenever they goof. But such programs are expensive and only affect persons already in the system. What Durlaf and Naglin are angling for is a way to scare potential offenders straight without laying a hand on them. How to do it? Let's let them say it:
If one takes the total resources devoted to crime prevention as fixed, then our conclusions about the marginal deterrent effects of certainty and severity suggest that crime prevention would be enhanced by shifting resources from imprisonment to policing.
Click here for the complete collection of strategy and tactics essays
Durlaf and Nagin dismiss the deterrent effects of regular patrol and detective work. Instead, they suggest that the answer lies in targeted law enforcement. They seem particularly fond of hot-spot policing, mentioning several studies that found it reduced crime without incurring displacement costs. They also support efforts that target offenders. Among the examples cited are Boston's Project Ceasefire and Project Exile, which used Federal laws to impose harsh sentences on criminal gun possessors. Durlaf and Nagin admit that the evidence about targeted strategies isn't conclusive, and that the observed effects are uneven, but they're nonetheless convinced that these approaches can deter offenders without making it necessary to process them in the first place. (Click here for a posting about hot-spots. Click here for a posting that summarizes studies of Ceasefire and Exile.)
We've argued in these pages that police count, so quarreling with academics who agree that cops are important might seem small-minded. But before one guzzles the Kool-Aid of harsh policing there are many concerns to sort through. Considering the criticality of police-community relations, it might seem paradoxical to enthusiastically endorse aggressive practices, which have in fact become de rigueur in many communities during recent years. In passing, Durlaf and Nagin concede that harsh strategies such as stop-and-frisk can create citizen blowback. As those of us old enough to be retired from law enforcement well know, aggressive cops have also provoked riots. (For a discussion of New York City's stop-and-frisk campaign click here. For accounts and news links to intensive policing projects around the U.S. click here.)
That's not to say that there's no place for hard-nosed policing. Surveillance and undercover work has been used to address open-air drug and sex markets for decades, usually at minimum inconvenience to the law-abiding. Such efforts, which continue under the rubric of problem-oriented and hot-spot policing, can clearly drive down offending, at least while cops are watching. Yet there's little or no evidence that these strategies offer a beneficial collateral effect on assaultive crimes. Admitting as much, Sacramento police are set to test the idea of using hot-spots, not to counter violence per se but to reduce the number of routine calls for service. That, in turn, should supposedly give officers more time to devote to serious crime. Of course, whether such an indirect approach can produce results is open to question.
Looking to hot-spots and the like to deter violence may be unwise. Many, perhaps most shootings and killings aren't resolved until detectives process crime scenes, interview witnesses and conduct follow-up investigations. Indeed, a proven way to boost homicide clearances is to increase, even temporarily, the number of investigators. If it's true, as Durlaf and Nagin insist, that deterrence is best served by certainty of arrest, one can hardly think of a better way to deter violence than to deploy more detectives.
A time-tested approach to preventing violence is to target violent people. In Project Exile, police and Federal agents identified convicted felons who carried guns, the goal being to send them to prison for prolonged periods, under the reasonable assumption that they would otherwise be committing serious crimes. A well-regarded evaluation concluded that the program reduced violent crime. But such projects go against the grain of Durlaf and Nagin's approach. Determined at the outset to "restrict our attention to changes in sanction policy that have the potential to reduce both imprisonment and crime," they explicitly reject the most straightforward preventive tool in the criminal justice arsenal:
...we note that our analysis does not address incapacitation effects, which constitute a logically independent way of reducing crime from deterrence. We recognize that the possibility that incapacitation effects are large represents a potential challenge to our objective of reducing crime and imprisonment....
Durlaf and Nagin expend pages of effort to rebut evidence that three-strikes and truth-in-sentencing laws reduce crime. (For a previous posting on point click here.) We'll leave that quarrel for econometricians. It's not that the authors claim that incapacitation has no value. Their objections are more nuanced. Imprisonment has reached its maximum form, so its potential to further improve things is at its limit. Incarceration makes offenders worse off. It's difficult to predict who ought to be incapacitated, and for how long. Indications that it reduces crime can't be trusted, as many other variables are at work. (Of course, that's also true for deterrence.) And so on.
Be sure to check out our homepage and sign up for our newsletter
One would have more confidence in the authors' conclusions had they analyzed the effects of incapacitation rather than merely taken shots at studies that conclude it works. Durlaf and Nagin's skepticism about the benefits of imprisonment is evidenced by their concern about its criminogenic effects. Apparently, they're unconcerned about the criminogenic effects of leaving a criminal free to ply his trade. Really, where does more learning take place – in prison or on the street?
In the next few weeks we'll be parsing sixteen reaction essays to "Imprisonment and Crime." We'll also be examining two recently-released reports on criminal justice policy, one by the Smart on Crime Coalition, which addresses a variety of punishment-related topics, and another by the Justice Reinvestment Project, which suggests risk-assessment and supervision practices that purportedly reduce imprisonment and recidivism.
Stay tuned!
UPDATES (scroll)
7/14/23 "Swift, certain and fair" (SCF) is the watchword of Project HOPE, a recidivism-prevention approach that originated in Hawaii two decades ago. Proponents argued that probationers could be kept on the right track by promptly jailing them for a few days should they cross the line. But a meta-analysis of 18 studies reveals at best only a slight benefit. That, say its authors, is less worthy of funding than current approaches which emphasize "guiding the prosocial development" of persons under supervision.
Did you enjoy this post? Be sure to explore the homepage and topical index!
Home Top Permalink Print/Save Feedback
---
RELATED POSTS
Rewarding the Naughty Ignoring the Obvious Of Hot-Spots and Band-Aids
A Very Dubious Achievement Slapping Lipstick: I II III An Epidemic of Busted Tail Lights
Too Much of a Good Thing? The Great Debate (II)
RELATED REPORTS
February 2011 ASC/COSSA Congressional Briefing Hot-Spot Strategies