Violent and Vulnerable
Some combative citizens may be at heightened risk of death (#362, 7/8/20)


Don't "Divest" - Invest!
Stripping money from the police is foolish. So is ignoring the plight of poverty-stricken neighborhoods.
(#361, 6/26/20)
---
Is it Ever OK to Shoot Someone in the Back? (II)
In Atlanta, a "routine" encounter turns lethal. Instantly, a deplorable outcome is attributed to race. (#360, 6/19/20)
---
Gold Badges Can Be the Problem
Ordinary cops often know what's best. They should act on it. (#359, 6/8/20)
---
But is it Really Satan?
A Sheriff's lament reflects the hopelessness of urban decay
(#357, 5/25/20)
---
Can the Urban Ship
be Steered?
Seasoned police leadership. Yet the
violence continues. (#354, 4/21/20)
---
Taking Missiles From Strangers
One wannabe heads to prison. Another waits. Should we be relieved?
(#353, 4/10/20)
---
Fair But Firm
Gaining voluntary compliance is the
sine qua non of everyday policing.
Indeed, of everyday life. (#352, 4/2/20)
---
When Should Cops Lie?
NYPD detectives tweak an old approach. But lying is still lying. (#351, 3/26/20)

---
Place Matters
Desperate to avoid controversy, politicians avoid the obvious
(#349, 2/29/20)
---
Must the Door Revolve?
Bail and sentencing reform come.
Then stuff happens. (#348, 2/9/20)
---
A Recipe for Disaster
Take an uncertain workplace. Toss in a "mission impossible" and pressures to produce. Voila! (#347, 1/24/20)
---
Loopholes are Lethal (II)
Who can buy a gun? Indeed, just what is a gun? Um, let's pretend! (#346, 1/4/20)
---
Loopholes are Lethal
Federal gun laws are tailored to limit their impact. And the consequences
can be deadly. (#345, 12/22/19)

---
Did the Times Scapegoat L.A.'S Finest? (II)
Quit blaming police racism for lopsided outcomes. And fix those neighborhoods! (#344, 12/3/19)

---
Did the Times Scapegoat L.A.'s Finest?
Accusations of biased policing
derail a stop-and-frisk campaign
(#343, 11/12/19)

---
Technology's Great -
Until it's Not
Police love Rapid DNA and facial recognition but hate encryption.
Privacy advocates beg to differ.
(#342, 10/18/19)

---
Means, Ends and 9/11
Extraordinary measures beget extraordinary consequences
(#341, 9/28/19)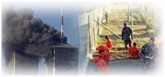 ---
Human Renewal
Despite redevelopment, South Bend's poverty and crime remain locked
in an embrace (#340, 9/13/19)

---
A Workplace
Without Pity
Doing right by the public might
mean doing wrong to the cop
(#339, 8/27/19)

---
Going Ballistic
Stop with the tangential!
Gun lethality is, first and foremost,
about the projectile (#338, 8/12/19)


---
Repeat After Us:
"City" is Meaningless
When it comes to crime, it's neighborhoods that count
(#337, 8/2/19)

---
Two Sides of
the Same Coin
Street gangs and officer cliques
have a lot in common (#336, 7/20/19)

---
Can You Enforce
Without Force?
Decriminalizing illegal immigration would have serious consequences
(#335, 7/1/19)

---
A Distinction
Without a Difference
An epidemic of officer suicide raises the question: do guns cause violence?
(#334, 6/22/19)

---
Informed and Lethal
Accurate information can provoke
lethal errors (#333, 5/5/19)

---
Mission Impossible?
Inner-city violence calls for a lot more than cops. Is America up to the task? (#332, 4/13/19)

---
Driven to Fail
Numbers-driven policing can't help but offend. What are the options?
(#331, 3/27/19)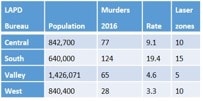 ---
No Such Thing As
"Friendly" Fire
As good guys and bad ramp up their arsenals, the margin of error disappears (#330, 3/4/19)

---
A Not-so-Magnificent Obsession
Lapses in policing lead to chronic rulemaking. Does it hit the mark?
(#329, 2/15/19)

---
A Victim of Circumstance
Building cases with circumstantial evidence calls for exquisite care
(#328, 1/26/19)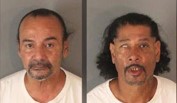 ---
When Walls Collide
Ideological quarrels drown out straight talk about border security (#327, 1/14/19)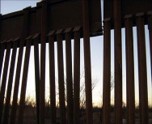 ---
Cops Aren't Free Agents
To improve police practices, look
to the workplace (#326, 1/3/19)

---
7/10/20 A massive criminal complaint (click here) charges three officers in LAPD's Metro unit with falsifying official records by falsely claiming that persons they had stopped were gang members or associates. Related posts 1 2 3 4 5

The L.A. County Coroner released the full autopsy of Andres Guardado. It confirmed that all five bullets entered his back. No drugs were detected in his blood or urine. Related post

7/9/20 Louis Lane, 31, was fired from his Red Bluff (Calif.) Walmart job in 2019 for not showing up. On June 27 he returned armed with an "AR-type" rifle and opened fire, killing one and wounding four before police shot him dead. In 2018 his "suspicious behavior" in the parking lot of a Nevada airport led police to detain him. Officers found a loaded pistol in his waistband and a 7.62mm rifle and "numerous" loaded magazines in his vehicle. But he avoided becoming a felon. A felony concealed weapons charge was dismissed and he pled guilty to misdemeanor under the influence (he had reportedly been using meth and alcohol). Related post

Despite coronavirus, violence in crime-plagued Kansas City is up. As of July 7, there have been 100 murders, forty percent more than at this time last year. The Department of Justice is responding with "Operation Legend," a multi-agency targeted approach. Related post

Transcripts of police body-cam footage reveal that Minneapolis PD officer Thomas Lane voiced concern that George Floyd was suffering from "excited delirium or whatever." Officers summoned an ambulance early during the struggle but confusion about their location and the urgency caused a delay. Related posts 1 2

7/8/20 A private autopsy requested by the family of an 18-year old shot dead by a Los Angeles County Sheriff's deputy concluded that he died from five bullets that entered his back. Officials claim that the youth was carrying a pistol with an illegal high-capacity magazine and ran from two deputies who approached him to talk. Andres Guardado, 18, was supposedly employed as a security guard, but was too young to carry a gun. Related post

7/6/20 Violence continues to engulf Atlanta following the killing of Rayshard Brooks, with five shot dead and twenty-six wounded during the July 4th. weekend. One of the dead was an 8-year old girl riding in her mother's car. "The reality is this," said Mayor Keisha Bottoms. "These aren't police officers shooting people on the streets of Atlanta, these are members of the community shooting each other." Violence and the "ransacking" of the state police building also led Georgia Governor Brian Kemp to deploy 1,000 National Guard troops to protect government buildings. Related post

Last year Chicago's gun violence toll over the Fourth of July weekend was six dead and 63 wounded. This year "at least 80" were shot, of whom "at least" 17 died. One of the fatalities was a 7-year old girl who was celebrating the holiday with her family in the Austin district. Other victims include a 14-year old shot dead and an 11-year old and a 15-year old wounded, all in the Englewood area. Related posts 1 2 3

7/4/20 Six members of the notorious MS-13 gang, of whom at least four originally entered the U.S. illegally as unaccompanied minors, have been arrested for the ambush murder of a Wheaton, Maryland painter. According to police, the victim was targeted because he had beaten up one of his assailants for burglarizing his apartment (click here for details about the murder.) Police blame a Federal resettlement program for importing gang members into the U.S. According to the Washington Post, 42 teens who entered the U.S. unaccompanied during the last three years became involved in MS-13 violence. Nineteen have been charged with murder; three were killed. Related posts 1 2

7/3/20 Police in California and four other states are involved in an FBI test of Rapid DNA for booking arrestees. In Orange County, the D.A.'s office has used it for five years, building a database of profiles from misdemeanants as part of their plea bargains. But Rapid DNA profiles remain insufficiently trustworthy for inclusion into CODIS. Mixed samples, in particular, still produce inconsistent results. Related post

7/1/20 Check out Jay's article "Why Do Officers Succeed?" in the July 2020 Police Chief magazine (p. 26). Related post

6/30/20 A middle-aged St. Louis lawyer couple exited their home and pointed an assault rifle and a pistol at protesters who allegedly crashed the entrance gates to their wealthy subdivision and marched to the mayor's residence to demand cuts in police funding. Related posts 1 2

6/29/20 "Golden State Killer" Joseph De Angelo pled guilty to thirteen murders and a host of other crimes before a Sacramento, Calif. Superior Court judge. Court was being held at the local Cal State campus, the same place where De Angelo earned a criminal justice degree in 1972. (He was fired from a police job seven years later for shoplifting.) De Angelo will be sentenced to life without parole. Related post

Through June 21 there have been 295 murders and 1,250 shootings in Chicago, compared with 235 and 902 in 2019. These incidents are mostly happening in the city's crime-scarred districts, including Harrison, Austin, Ogden and Lawndale. A recent weekend's toll was at least 106 shot and 14 killed. On "a bloody Saturday," June 27, eight were shot and killed including three children. One, twenty months old, was struck by a bullet as his mother drove in the Englewood neighborhood. Related posts 1 2 3

Illinois, which requires gun owners> to have permits, processed more than five times the typical number of applications in a recent two-week period. "Take a full glass of coronavirus, shake in a shot of riots and another of this defund police notion, and everything goes crazy" said the owner of a Chicago gun store. He's selling as many as 200 guns a day, twenty times his typical amount. A local university scholar attributes the rise in gun sales to "a belief that the world is a dangerous place." Related posts 1 2 3

6/26/20 Santa Cruz, Calif., an early adapter of Predictive Policing, has banned it because it biases police attention towards areas populated by persons of color. Its use was suspended by a new police chief in 2017 because doing "purely enforcement" caused inevitable problems with the community. Santa Cruz also banned facial recognition software because of its racially-biased inaccuracies. Related posts 1 2 3 4

6/25/20 Activists are challenging why California's Cal Gangs database, which police consult to determine whether someone is a gang member, has yet to comply with an audit that required a purge of erroneous entries. While the state refuses to make changes that would shrink the database and tighten the process of adding names, "to strengthen community trust" LAPD decided to forego its use altogether. Related posts 1 2

Detroit police arrested a black man in a store theft. Software tentatively matched a still image taken from a surveillance video to his photo in the state's driver license database. Detectives included this image in a six-pack and showed it to the store's security contractor, who wasn't present during the theft. She identified him, and police used that alone to obtain a warrant. But the man was innocent. Related post

6/24/20 New York City is experiencing a "surge" in shootings, with "more than double" during a recent three-week period compared with 2019. According to the NYPD data portal, murders are up by twenty-five percent, with 159 this year thru 6/14/20 (last year there were 127 during this period.) Shootings are also reportedly up elsewhere, including Chicago and Minneapolis. Related posts 1 2

A new Senate bill, "The Lawful Access to Encrypted Data Act," would require that manufacturers and providers of communication services help law enforcement agencies access encrypted devices and decode encrypted messages if ordered by a court based on probable cause. Related posts 1 2

6/22/20 Atlanta PD officer David Brosnan, who first encountered Rayshard Brooks, was examined at the hospital and diagnosed with a concussion suffered when his head struck the ground. Officer Brosnan is freely expressing himself to the media. He says he always tries to defuse situations, denies trying to hurt Mr. Brooks, whose death he considers tragic, and insists he is not fashioning himself as a "witness" against anyone. He also says he was unaware of Brook's record. Related post

6/21/20 An arrest warrant was issued for "Natalie White," Rayshard Brooks' alleged girlfriend, whom surveillance images connect with the fire that burned down the Wendy's restaurant where he was killed. Brooks had asked officers to let him go to "Natalie White's" apartment to sleep off his intoxication. Related post

6/21/20 During the late evening/early morning hours of June 19-20, shootings in Chicago left twenty-four wounded and two dead. That was followed by seven killings and "at least twenty" woundings during the next day and evening. Among the dead were four children, ages three to seventeen. The three-year old was shot while in a car being driven by his father, whom officers know and consider the target. Related posts 1 2 3

6/20/20 In "Procedural Justice and Legal Compliance," Daniel Nagin and Cody Telep argue that while procedurally just treatment of citizens by police can be of social benefit, it will not necessarily increase citizens' compliance with the law or reduce lawbreaking. Related post

In "Effects of police body cameras on citizens compliance and cooperation," Mustafa Demir, Anthony Braga and Robert Apel conclude that citizens who interact with traffic officers wearing body cameras are more likely to agree with officers and with the laws than citizens who encounter officers without cameras. Related post

6/19/20 A study published in PNAS concludes that states which have gun storage laws intended to prevent childrens' access to guns and do not have right-to-carry or stand-your-ground laws can expect eleven percent fewer firearms deaths. Related post

6/19/20 The Department of Justice announced it would continue to support and emphasize Project Safe Neighborhoods, which was "revitalized" in 2017. Coordinated by US Attorney offices throughout the U.S. and funded in part by DOJ, PSN initiatives target crime-impacted areas and armed offenders and are reportedly highly successful in reducing violent crime. Related posts 1 2 3

6/16/20 The Supreme Court refused to hear the U.S. Government's appeal of Federal court rulings that uphold California's "sanctuary" law. Known as S.B. 54, it bars law enforcement officers from assisting Federal immigration agents except when their targets have been convicted of serious crimes. Related post

6/16/20 NYPD's elite plainclothes anti-crime units, which aggressively targeted armed criminals in the city's most violent areas, are no more. Criticizing them as a spin-off of the "stop and frisk" approach, Commissioner Dermot Shea is reassigning their 600 officers. But the city's police union sees the move as a political sop. Anti-crime officers have been involved in some controversial shootings, including the 2018 killing of Saheed Vassell, a well-known oddball, after he pointed a pipe pretending it was a gun. Related posts 1 2

6/14/20 Dispatched to a Wendy's, a white, rookie Atlanta cop encountered a black man, Rayshard Brooks, 27, asleep in his car in the drive-through lane. Soon a more senior officer, also white, arrived. He used a portable tester which indicated Brooks was intoxicated. Brooks resisted handcuffing, grabbed the rookie's Taser and ran off. During a brief foot chase Brooks turned towards the more senior cop and fired the Taser. The officer, who was running with Taser in hand, drew his gun and shot Brooks dead. He was promptly fired. His partner was suspended and the police chief, a white woman, resigned Related posts 1 2 3

6/10/20 On May 29, as NYPD officers cleared a street of demonstrators, a 20-year old female protester was reluctant to comply. She verbally challenged an officer, who responded by violently shoving her to the ground (video). The woman sustained head injuries. The next day, the officer (he has five years on the job) was arraigned on several misdemeanor counts, including third-degree assault. Related post






Punishment Isn't a Cop's Job
An officer metes out his brand of discipline. He then faces
society's version. (#358, 6/3/20)

All updates
Case against officers
Policing in Minneapolis
Policing elsewhere

7/12/20 A citizen's video depicts three Allentown, Pennsylvania police officers holding down a large man on his stomach on the sidewalk in front of a hospital while a nurse stands by. As one of the officers applies handcuffs he places a knee across the man's neck and leans in.

7/11/20 A Minneapolis lawyer announced that 150 of the city's 850 police officers are filing for disability, mostly as result of PTSD they say was brought on by the protests. Seventy-five have reportedly already left. Disability confers 60 percent of salary as long as a condition persists.

7/3/20 In the New York Times, a searching account of Minneapolis' troubles before George Floyd, the violence that erupted when he was killed, the looting and burning of the neighborhood where the abandoned precinct stood, and the questions left in the aftermath, including whether the city should have relinquished control.

7/1/20 Facing a COVID-caused economic crunch and demands to defund the police, the Los Angeles City Council voted 12-2 to cut LAPD's 1.8 billion budget by $150 million, "far short" of what activists want. Its move, which was opposed by the president of a property owners association, will make funds available for "hiring programs and summer youth jobs" in "disenfranchised" neighborhoods.

Seattle police moved in force to retake the "Capitol Hill" area from a large group of protesters who had occupied the zone for three weeks, deploying their own security and causing officers to abandon the local precinct station and suspend regular patrols. Ordered by Seattle Mayor Jenny Durkan, the move followed an upsurge in violent crime, including four shootings that killed two black teens and wounded a 14-year old and an adult. Police chief Carmen Best (she is black) said "enough is enough. Two African American men are dead, at a place where they claim to be working for Black Lives Matter."

6/30/20 In the New York Times, an extensive inquiry into seventy police in-custody deaths during the last ten years where the decedents complained they couldn't breathe. Many (but not all) the arrestees had been forcibly restrained, most often by being placed on their stomachs, had drugs in their system, and suffered from serious health issues.

Floyd's final, full autopsy report indicates that a wide assortment of drugs were in his system, including "Fentanyl 11 ng/mL, Norfentanyl 5.6 ng/mL, 4-ANPP 0.65 ng/mL, Methamphetamine 19 ng/mL, 11-Hydroxy Delta-9 THC 1.2 ng/mL; Delta-9 Carboxy THC 42 ng/mL; Delta-9 THC 2.9 ng/mL, Cotinine positive, Caffeine positive." His blood was free of alcohol. Urine was "presumptive positive for cannabinoids, amphetamines, and fentanyl/metabolite" and "morphine (free) 86 ng/mL."

6/27/20 In the New York Times, a probing portrait of Alex Kueng, the black rookie who was arrested in Floyd's death. Now out on bail, ex-cop Kueng faces the wrath of both friends and family members.

As hooliganism, violence and gunplay worsen in Minneapolis, residents complain they're seeing a far less robust police response. A local activist faults the city council's move to dismantle the agency for discouraging citizens from reporting crime and for emboldening lawlessness.

6/26/20 A Hispanic NYPD officer was charged with violating a new, felony law that bans "strangulation" for applying a banned chokehold to a mentally ill black man, allegedly causing him to temporarily lose consciousness. Four years ago the officer was acquitted of pistol-whipping a youth.

Tucson police released a two month-old bodycam video that depicts three officers holding down a handcuffed, 27-year old mentally distraught man on his stomach as he begs for water and says he can't breathe. Police had been called to the home by the man's grandmother. The man died at the scene. Cause of death was "sudden cardiac arrest, with physical restraint by officers and cocaine intoxication as contributing factors." The officers resigned; the chief offered to step down but remains on the job.

6/25/20 Los Angeles is struggling to "reimagine" policing. A city council proposal to take $133 million from LAPD was ridiculed by protesters who want its $3 billion budget slashed by ninety percent. Meanwhile the city's school board can't decide whether and how much to cut its 366-officer school police, which critics accuse of making black students feel like criminals.

6/22/20 A group of civil rights organizations has filed a massive lawsuit accusing LAPD of excessive force, including needlessly using clubs and firing non-lethal projectiles, to disperse and arrest persons who were protesting a recent spate of police shootings of black men. Plaintiffs also accuse LAPD Chief Michel Moore of ordering roundups despite knowing the risks posed by coronavirus in crowded lockups.

6/21/20 Floyd's 2004 drug sales conviction was based on the testimony of a black narcotics detective, since retired, who is being investigated for falsifying his work, leading to a 2019 raid that went murderously astray. More than one-hundred prior cases are under review and will likely be dismissed.

6/19/20 Prompted by the killing of George Floyd, the IACP has issued "position papers" that address reforming police procedures, increasing the number of minority officers, reducing the use of force, and improving officer accountability. It suggests, among other things, that all agencies adopt national standards on use of force, discipline and termination, and participate in a national officer decertification database. While the IACP endorses more social spending, it opposes taking that money from the police. It also opposes reducing "qualified immunity" protections that officers presently enjoy. (Paper 1 2 3 4)

6/19/20 Police departments from Phoenix to Miami are banning chokeholds and neck restraints. Many agencies are also implementing policies requiring that officers intervene when colleagues are using excessive force. In Cambridge, cops who don't will be subject to prosecution.

6/17/20 President Trump signed the "Executive Order on Safe Policing for Safe Communities" that seeks to enhance policing, improve officer-citizen relations and prevent misuse of police authority. For more details click here

6/15/20 The Department of Justice launched the "Civil Rights Reporting Portal," an online aid to help victims report civil rights violations. It's in English and Spanish, with more languages to soon be added.




A Conflicted Mission
An ideologically-fraught quarrel poses unique challenges (#356, 5/12/20)





Letting Go
Who should stay locked up during the pandemic? Who can go? (#355, 5/1/20)

COVID-19: R.I.P. Policing?
Crime-fighters confront the challenges
of coronavirus (#350, 3/17/20)





All updates
Police operations
Enforcing compliance
Crime, courts, corrections
Fraud





7/11/20 California plans to release 8,000 state prison inmates in two waves. All are serving time for non-violent crimes and have at most less than one year remaining in their terms. Its move, according to Governor Gavin Newsom, was prompted by COVID-19's heavy toll. Thus far coronavirus has infected 2,400 inmates system-wide, including 1,314 at San Quentin (see 6/30 update.)

7/8/20 The Florida family that was ordered to stop marketing a dangerous cure (see Fraud, 4/17) was charged with Federal crimes after sending the court a letter refusing to comply and threatening the judge with the "second amendment."

7/8/20 Although police say they sent it a letter demanding compliance, a popular Huntington Beach (Calif.) restaurant refuses to require that diners wear masks. Its position is supported by many residents and local politicians, whose attitudes reportedly led the county's health officer to resign.

7/7/20 In May Merced County (Calif.) Sheriff Vernon Warnke announced he would not enforce the governor's stay-at-home order because it would cause an economic disaster and make citizens "dependent." With cases now surging he is imploring everyone to "wear your masks, do your social distancing, wash your hands. Please take it seriously."

7/5/20 Even as COVID-19 rips through West Texas, many ignore their governor's latest order to shut nonessential businesses and don masks. An Odessa bar owner who defied an earlier closure is doing it again. "My bartenders can't feed their families...We're having people survive...Let's just let this run its course." A county commissioner echoed his constituents' views: "You don't get to tell me what to do."

7/4/20 California Gov. Gavin Newsom announced that he was assembling state "strike teams" that include the Highway Patrol to enforce his June 18 order that closed bars and restaurants in nineteen counties where COVID-19 had surged. State action seemed necessary because sheriffs of Sacramento, Riverside and Los Angeles counties said they would not enforce his order. Gov. Newsom had already implored residents of these counties to wear masks in public as the order also requires. As to that, some localities agreed to help. In L.A. County, the West Hollywood sheriff's station warned that first-time offenders will get a $300 civil citation; in Santa Monica tickets will start at $100.

7/1/20 Robberies by mask-wearers has become a national problem. Facing a fifty-percent surge in robberies, police in Santa Ana, Calif. blame the use of facial coverings as well as the early release of inmates from local jails.

6/30/20 A Seattle doctor was charged with submitting applications for over $3 million worth of paycheck protection loans by misrepresenting the size of his staff and concealing his criminal record.

More than a thousand inmates and 102 jailers have been infected at California's San Quentin prison. The institution, which houses 3,500, has also suffered its first death, of an elderly death-row inmate. Its infections - and those at other prisons - reportedly stem from within-system transfers that went wrong. Many inmates are being treated at overflowing local hospitals, and the Governor has pledged to release several thousand inmates from across the system to ease the burden.

Scammers posing as coronavirus contact tracers are reportedly using personal information they collect to commit financial frauds. According to the FBI that's also one of the objectives of phony antibody testers. Another is to simply get paid for bogus results.

6/28/20 In rural California, many residents are ignoring the Governor's recent order to wear a mask in public spaces. Ditto store owners, who balk at requiring it of their customers. It's partly due to rural culture, which is politically conservative and prizes individualism, and partly resentment at being told what to do. "The deal is, you have no right to tell me I have to wear a mask. I'm an American. … I refuse to bow to anybody."

6/27/20 As businesses reopen to the public, infections and hospitalizations have surged. Faced with "scofflaws" who refuse to follow the rules, some California localities are toughening their stance. In the San Diego area, a restaurant that ignored a sheriff's visit and continued to let employees go without masks, and a popular bar that let mask-less customers mingle freely have both been shut down.

6/26/20 The Department of Justice filed a "statement of interest" in support of a Federal lawsuit that challenges Hawaii's decision to force visitors to self-quarantine for two weeks as unduly discriminatory. Here the visitors are residents of California and Nevada who own property in Hawaii.