Cause and Effect
(#399, 12/6/21)


California eased up on punishing theft. Did it increase crime? Embolden thieves?
---
Backing Off
(#398, 11/18/21)

Leaving suspects alone cuts against the grain. But there are few options.
---
"Woke" up, America!
(#397, 10/25/21)

Violence besets poor neighborhoods.
So why should the well-off care?
---
Full Stop Ahead
(#396, 9/27/21)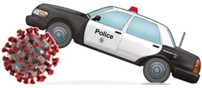 Floyd and the virus upend policing.
Some cops react poorly.