COPS V. ASSAULT WEAPONS:
A HOPELESS SITUATION
Even the speediest, most expert response may not suffice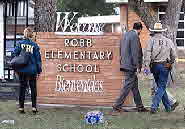 For Police Issues by Julius (Jay) Wachtel. On May 26, clicking on the "gunshop" link at Oasis Outback produced a static, full-screen display of "Our Hearts Are With the Families of Uvalde" in large block letters. To get to the intended destination page we had to manually type in its address. (Doing that worked. It also brought up a proud announcement that the store "Is Now a Class 3," meaning it sells machineguns and silencers.)
Oasis' redirection was certainly understandable. As the whole world knows, it's the sporting goods store where eighteen-year old Salvador Ramos legally purchased the Daniel Defense, AR-15 style, .223 caliber semi-automatic rifle he used to murder nineteen students and two teachers at Robb Elementary School, which sits only three miles away. Ramos bought the gun on May 17. He went back the next day to get 375 rounds of ammunition, then returned two days later to buy a second assault rifle (he left it behind in his truck during the massacre.) And on May 24 it was time for a massacre!
Click here for the complete collection of strategy and tactics essays
Ramos was proud of his lethal new toys. He posted photos of the weapons and of an ammunition magazine on his Instagram account. He also asked another user, whom he apparently picked at random, to repost the pictures on her account. But she refused. "What your guns gotta do with me?" she demanded. He messaged her again early the morning of the attack. "I'm about to...I got a lil secret I wanna tell u." He promised to reveal it before 11:00 am. And he did, but not to her. Instead, he spilled the beans to a fifteen year-old FaceTime chum in Germany. Days earlier he bragged to her about acquiring bullets that "would expand when they struck somebody." This time his first message was about a dispute with his grandmother. A few minutes later he texted "I just shot my grandma in her head." And seconds after that, "Ima go shoot up a(n) elementary school rn (right now)."
Ramos was by most accounts a troubled soul. A former classmate – Ramos had sent him pictures of his newly-bought guns – said that their gaming sessions were frequently interrupted by calls from Ramos' mother, who complained that he was "doing nothing with his life." Ramos would reply with expletives. He frequently wound up at his grandmother's house, which is where he was living when he bought the guns and embarked on his attack.
Ramos had recently dropped out of high school. He took a job at a fast-food joint but soon walked out on that as well. A former supervisor called him a loner. "You know how my guys talk to each other and are friendly? He wasn't like that." His German friend thought him friendless and isolated. Their exchanges occasionally proved disturbing. Such as when Ramos bragged that he "threw dead cats at people's houses."
Another virtual acquaintance said that Ramos once streamed an image of himself holding a gun. There was blood on the ground, which Ramos attributed to a nosebleed.
Ramos' world seemed wholly virtual. Until it wasn't. About 11:30 am on May 24, 2002, after shooting his grandmother – she was struck in the face and critically wounded – he put both rifles and a bag of ammunition in a pickup truck and drove to Robb Elementary School. According to Texas DPS Chie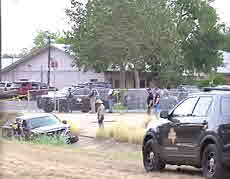 f Steven McCraw, Ramos crashed his vehicle into a ditch and exited with the Daniel Defense rifle and his ammo. After firing at two persons who were leaving a nearby funeral home he crouched behind a car and fired at a school building. A district police officer drove by but apparently didn't see him. Ramos climbed a fence and entered the school through an open back door. As he reached classrooms 111 and 112 – they're interconnected – he unleashed a barrage of "more than 100 rounds," apparently firing through the walls. That, we assume, is how his victims met their horrendous fates.
Three local police officers entered the school "two minutes" behind Ramos. Four colleagues soon joined them. Ramos fired at them from the classrooms. Bullets pierced a wall and inflicted "grazing wounds" on two of his pursuers. Before long, nineteen officers had staked out the hallway. And that's where the school district police chief told them to wait.
Police evacuated all the students they could. But the surviving occupants of rooms 111 and 112 remained under Ramos' control. Within minutes, several surreptitiously dialed 9-1-1 and in hushed tones reported that many classmates had been shot dead. They begged for police to come in. Eventually, a tactical team was assembled. Using a ballistic shield for cover, an "elite Border Patrol tactical unit" and several local officers confronted Ramos. Gunfire broke out. Ramos was killed. Unfortunately, the shield didn't offer perfect protection and an agent "was shot in the foot and grazed in the head."
That entry happened about 12:50 pm. According to the ABC News timeline, that took place one hour and fifteen minutes after the first set of officers followed Ramos onto the campus.
---
This delay has occasioned a lot of criticism. According to Texas DPS Director Steven C. McCraw, "It was the wrong decision, period." His sentiments were echoed by Texas Governor Greg Abbott, who declared himself "absolutely livid." Even if Ramos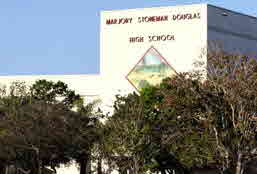 had stopped shooting at students, prompt medical attention could have allowed more of the injured to survive. Alas, it's not the first time that police have been accused of failing to speedily intervene during a school massacre. Only four years ago, in February, 2018, a 19-year old former student used an AR-15 style rifle to kill seventeen persons and wound an equal number at Marjorie Stoneman High School in Parkland, Florida. Nikolas Cruz then blended in and simply walked away. Deputies were severely criticized for not promptly going in, and the Sheriff was ordered removed.
Similar concerns were voiced after the 1999 Columbine
massacre, when two Colorado high school seniors gunned down twelve students and a teacher and wounded twenty-three others. While all that happened within twelve minutes of the initial 9-1-1 call, SWAT didn't go in for forty-five minutes. By then, both shooters had taken their own lives. In fact, Columbine is widely credited for leading to the development of the "Immediate Action/Rapid Deployment Approach." This technique, which enables ordinary officers to quickly assemble into teams and confront active shooters in a variety of settings, has been adopted by police agencies throughout the U.S.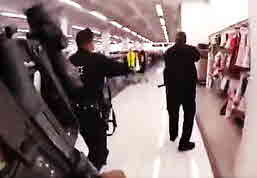 Rapid deployment has reportedly succeeded on many occasions. But we recently discussed an "immediate action" response in Los Angeles that turned out poorly ("Who's in Charge?"). In December 2021 a 24-year old man on felony probation burst into a large clothing store and began assaulting customers and staff. LAPD dispatchers (incorrectly) informed officers that the suspect had fired shots. Responding officers quickly gathered, promptly assembled into a column formation, and got to work (see bodycam image). And when they neared the suspect, the officer on point opened fire with an assault rifle, fatally wounding a man whom he assumed was armed (he wasn't.) Tragically, a police bullet also pierced an interior wall, killing a 14-year old girl who had taken refuge with her mother in a dressing room.
---
Humans are unpredictable. Getting them to voluntarily comply can be difficult. Throw in the extreme lethality of firearms available to the general public and the challenge becomes enormous. As we've mentioned in past posts (see, for example, "An American Tragedy") assault rifle projectiles sail through walls and ordinary ballistic garments as though these obstacles don't exist. Should they strike flesh, the bullets indeed (as Ramos bragged) "expand," creating huge cavities that pulverize blood vessels and destroy organs. It's why the team that ultimately went in at Robb Elementary took that special shield.
We suspect that Ramos' use of an assault rifle prompted the school police chief to adopt that "barricaded subject" approach. After all, Ramos' bullets had already wounded two officers. To be sure, slowing things down so that responders can be adequately briefed and equipped (again, that shield) makes sense. It's not only officer safety. After all, unless it's exquisitely well-placed, police gunfire can easily endanger innocents. Again, think back to that L.A. clothing store.
But an hour? Once they realize they're surrounded, "ordinary" criminals might simply give up. But individuals on a rampage – meaning school shooters and wackos who burst into clothing stores – are coming from a decidedly different mental place. In such cases, extending an ample opportunity to surrender can invite even more mayhem. On the other hand, hurried policing can, even if expertly delivered, prove tragically imprecise. Just ask LAPD.
---
No matter how well policing is done, it can't prevent mass shootings. Neither can it always mitigate the outcomes. So what about doing something about the killers' tools? We've repeatedly called for outright bans on assault rifles, which are essentially instruments of war (see, for example, "Ban the Damned Things!"). But even supposedly gun-unfriendly places like California have only managed to institute "pretend bans" that ignore what really counts: the weapons' fearsome ballistics (click here and here for our articles on point in the Washington Post.)
Be sure to check out our homepage and sign up for our newsletter
What about background checks and "Red Flag" orders? Certainly, screening buyers can help. But reliable ways that consistently and reliably prohibit questionable characters from buying guns are simply out of reach. Ramos had his foibles, but they were nowhere near what a judge would require to bar him from buying guns. And in an awful coincidence, his first gun purchase came only three days after another murderous eighteen-year old – Payton Gendron – gunned down ten persons at the Tops market in Buffalo, New York. That mass murder, which also drew the world's attention, was also done with an AR-15 style assault rifle that its mis-user legally bought. Gendron even had a seemingly substantial prior mental-health demerit. But it was never acted on, so he remained qualified to buy guns. And both sellers – Oasis Outback, Uvalde, TX; Vintage Firearms, Endicott, NY – reported that the transactions seemed perfectly routine.
Until, of course, they weren't.
UPDATES (scroll)
6/29/22 Shootings at public and private elementary and secondary schools in the U.S. have been tracked by the Department of Education since 2000. During the 2020-2021 school year there were fifty that caused injuries and 43 that caused deaths. That's the most in each category since recordkeeping began in 2000-2001. Then the corresponding numbers were seven and sixteen. DOE report

6/28/22 The tiny hamlet of Utopia, Texas, pop. 270, sits in a remote region about 45 miles north of Uvalde. With deputies about a half-hour away, residents must fend for themselves. After the 2012 Sandy Hook massacre, the school board authorized teachers at the local elementary school to obtain permits and carry guns. And some - they remain anonymous but are known to deputies and administrators - still do. "If there was a shooter on campus, our job is to neutralize the threats, or at least hold them in the area until law enforcement can get here and do their jobs."

6/25/22 Passed in the wake of recent massacres, the "Bipartisan Safer Communities Act" was signed into law. It enhances background checks to include juvenile records, helps fund State "Red Flag Laws" and mental health programs, includes "boyfriends" in the definition of domestic partners who may be barred from having guns, and specifically prohibits "straw" purchases (i.e. buying guns on behalf of unqualified persons). It does not create waiting periods or ban assault weapons.

6/23/22 Bemoaning "the lack of clarity" of what took place at Robb Elementary School, Uvalde's school superintendent placed school police chief Pete Arredondo on administrative leave (click here for his memo). Chief Arredondo was denied a leave of absence by the Uvalde City Council, to which he was recently elected, and could be removed from office if he misses three meetings.

6/22/22 According to Texas DPS chief Col. Steve McCraw, neither the exterior nor classroom doors at Uvalde's Robb Elementary school can be locked from the inside. All are locked externally, but none were. All police had to do, he said, was try them. Col. McCraw said that officers soon got shields - the first arrived within twenty minutes - and that several had AR-15 rifles. Calling the police response an "abject failure", he blasted the school police chief for delaying entry but said that state troopers on scene didn't have the authority to take over. Click here for a video clip of Col. McCraw's remarks.

6/18/22 Two Uvalde city police officers, one armed with an AR-15 rifle, arrived at the elementary school as the gunman was still outside, shooting at buildings. They had a brief opportunity to fire at Salvador Ramos but held off. According to an official who spoke with the officers, they didn't shoot "because in the background there was kids playing and they were scared of hitting the kids." He said he understood, as had their bullets struck an innocent person the blowback would have been severe.

6/11/22 Outward-opening, steel doors with steel frames made the Uvalde school's classrooms exceptionally difficult to forcibly breach. Resistant to ramming, they would have to be pried open, a difficult and, given an active shooter, dangerous task. That's why the scramble for keys. And it was a key that finally let officers in. School police, a consultant said, should have master keys. But they didn't. (See 6/22 update)

6/10/22 In a detailed interview with The Texas Tribune, Uvalde School police chief Pete Arredondo says that, as a relatively late arrival, he assumed someone else was in charge of the scene. "I didn't issue any orders. I called for assistance and asked for an extraction tool to open the [classroom] door." It was reportedly reinforced by a "steel jamb" to repel intruders. With the suspect's occasional shots "penetrating the wall," he was also concerned about the danger to others if the gunfire escalated.

On a party-line vote, House members passed a Federal "Red Flag" law that would apply nationwide. It authorizes Federal courts to order the immediate seizure of guns from persons thought by family members or police to pose an extreme risk. Hearings would come later. Criticized by the "Reds" as overreach, this response to the Uvalde school massacre is thought to have no chance for enactment.

6/9/22 Uvalde residents are troubled with two main questions. Why did police delay moving in? And why wasn't Ramos' threatening behavior - particularly, his posts on social media - reported to officials? This wasn't the first time that the town's schools had come under the gun. In 2018 two Uvalde teens, ages 13 and 14, devised an elaborate plot to commit mass murder at a junior high school on the anniversary of the Columbine massacre. But their intentions became known and the teens were arrested.

According to a 2018 Secret Service report, early intervention is key to preventing school violence. But its 2019 study of 41 episodes found that although most plotters had leaked their intentions verbally, in writing or otherwise, their warnings weren't heeded. Peers, says a 2021 Secret Service report, are best positioned to know, but may not take the messages seriously, or may be afraid or reluctant to snitch. It's up to parents, says the Washington Post, to get their kids to drop the "code of silence" and open up.

6/4/22 A middle-aged Texas inmate serving two life sentences for Cartel-associated murders stabbed the driver of a prison transport bus and escaped into the countryside. Gonzalo Lopez came across a cottage occupied by a man and his four grandsons, ages 11-18. He killed them all and stole a truck and several firearms, including an AR-15. Lopez was soon spotted by police, and fired at them with the rifle through the vehicle's windows. Lopez eventually crashed the truck and was shot dead.

6/3/22 In a major address, President Joe Biden argued for the restoration of the lapsed Federal assault weapons ban. He also pressed the House to pass a bill that would raise the minimum age to buy "assault-style" weapons to twenty-one. An approved House measure, which is thought to have a poor chance in the Senate, requires that buyers of semi-automatic weapons be twenty-one. But the Senate seems more disposed to help States bolster school security and mental health and implement "Red Flag" laws.

6/2/22 Two doctors, an assistant and a patient were shot and killed at a Tulsa medical complex by a gunman armed with an AR-15 style rifle and a .40 caliber pistol. Michael Louis, 45, a resident of Muskogee, was apparently enraged that recent back surgery had left him in pain. He had bought both weapons legally; the rifle, on the same day as his rampage. Louis committed suicide.




Did you enjoy this post? Be sure to explore the homepage and topical index!
Home Top Permalink Print/Save Feedback
---
RELATED ARTICLES AND OP-EDS
Associated Press timeline of Uvalde massacre
Washington Post, 9/6/19 "Want an assault weapons ban that works? Focus on ballistics"
Washington Post, 12/8/15 "Ex-ATF Agent: America is only pretending to regulate lethal firearms"
RELATED POSTS
Good Law / Bad Law Who's in Charge? Another Day, Another Massacre Going Ballistic
Ban the Damned Things! Red Flag at Half-Mast (I) Again, Kids Die; Again, Our "Leaders" Pretend
Oakland: How Could it Happen? There's no Easy Solution
---
Posted 4/20/22
WHEN A "DOPE" CAN'T BE "ROPED"
Can social media identify killers before they strike?

For Police Issues by Julius (Jay) Wachtel. As we write, "the safest big city in America" – New York City, according to former three-term Mayor Michael Bloomberg – reels from an April 12 mass shooting that wounded ten subway riders, five critically, during the morning commute. Clad in a construction gear and a mask, the gunman entered a subway car, discharged two smoke grenades, then pulled a 9mm. pistol and unleashed a thirty-three shot fusillade.
One day later the sixty-two year old gunman, Frank R. James, called the cops and was promptly arrested.
A maintenance worker and factory hand, James was born in New York City, but as an adult he became estranged from his family and wound up drifting between jobs in Chicago, Newark, Milwaukee and, most recently, Philadelphia. James had few if any friends, and former neighbors described him as "gruff, standoffish and prone to losing his temper." Along the way he amassed a long string of arrests for offenses including possession of burglary tools, disorderly conduct, "criminal sex act," trespassing and larceny. New Jersey authorities once charged him with "making terroristic threats." But in the end he pled guilty to harassment, wound up on probation and – not for the first time – was ordered into counseling. Throughout, James avoided either a felony conviction or a mental commitment, so he remained legally qualified to buy guns. As he did a decade ago at the Ohio pawn shop where he bought the pistol he would use – then leave behind – in the subway.
Click here for the complete collection of strategy and tactics essays
James, aka "prophet of truth 88," was a prolific YouTuber and frequently posted long-winded, expletive-laden monologues about politics, race and crime. Although his channel has been taken down, "VideoMattPresents" preserved a couple dozen of his videos. (Click here for one of the milder examples.) James' rants were replete with homophobia and misogyny, and his chronic invective cut across both race and ethnicity. Obsessed with issues of race, crime, homelessness and other intractable human problems (he even ranted about the invasion of Ukraine), James seemed convinced that they could only be resolved by driving those who might disagree with his answers to their knees.
Did the subway attack represent a lashing out? James openly conceded that he had long suffered from mental problems (he complained, though, that "treatment" only made things worse.) But as of late, his head trips may have turned worse. Here's an outtake from a March 20 video that he posted while driving to Philadelphia:
...just thinking 'cause I'm heading back into the danger zone, so to speak, you know, and it's triggering a lot of negative thoughts, of course, because I do suffer...have a bad, severe case of post-traumatic stress after the s---t I've been through all the f-----g years...
More ominously, in his most recent video, posted one day before the rampage, James announced that he once harbored thoughts of killing but had put them aside because of the likely consequences:
And so, this is why it's important to think about what you're going to do before you do it. Let's not be...I've been through a lot of s---t. What I can say 'I want to kill people, I want to watch you die right in front of my f-----g face immediately.' But I thought about the fact, hey, man, I don't want to go to no f-----g prison....
These comments, and more, have been mentioned in the print media. They were extracted verbatim from videos preserved by the YouTube channel mentioned above. Click on James' image for our compilation.
James isn't the only social media addict to act on his worst impulses. "Preventing Mass Murder" focused on three once-nobodies who left their despicable marks in 2018:
Robert Bowers, a middle-aged recluse, used an AR-15 rifle and three pistols to kill eleven and wound six, including four police officers, at Pittsburgh's "Tree of Life" synagogue. An "isolated, awkward man who lived alone and struggled with basic human interactions," Bowers frequently posted comments disparaging Jewish persons on Gab, an alternative online platform that reportedly remains popular with extremists.

Cesar Sayoc, a middle-aged bodybuilder with an extensive criminal record for property and violent crime, mailed thirteen explosives-laden packages to politicians and past and present Government officials. With his personal life long in the dumps, Sayoc apparently felt he had nothing to lose, and he used Facebook and Twitter to rant at his intended victims. California Congresswoman Maxine Waters got a tweet that read "see you soon." Former Attorney General Eric Holder, Jr. received a similar message, appended with "tick tock."

But the third middle-aged guy, Scott Beierle, was different. (We say "was" because he killed himself.) His "thing," though, wasn't politics – it was that women paid him no heed. His YouTube posts glorified "Incel" (involuntary celibacy) and praised the movement's former head, sometime Santa Barbara college student Elliot Rodger. We say "former" because Rodger, who knifed and shot six students dead and injured a dozen others during his vengeful spree in 2014, also killed himself. At the ripe old age of twenty-two.
And the carnage continued. In April 2019 John Earnest, 19, posted a vitriolic, anti-Semitic rant on "8chan" (now "8kun"), a message board described as a "megaphone for mass shooters." He then stormed into a San Diego-area synagogue and opened fire, killing one and wounding three. Four months later Patrick Crusius, a 21-year old Texas man, posted a hateful anti-Mexican, anti-immigrant diatribe on 8chan. Wielding an AK-style rifle, he went on a shooting spree at an El Paso Walmart, killing twenty-three and wounding an equal number. It's thought that Crusius, who "spent countless hours on the Internet" following white supremacy, essentially learned to hate online.
---
Alas, despite gun laws and physical security measures (the Poway massacre led President Trump to suggest posting armed guards at religious services) mass killings persist. But is it possible to act before twisted killers strike? Absolutely, says the FBI. Consider, for example, the case of Robert Hester, whose online posts glorifying ISIS and justifying violence drew the attention of undercover agents. Ultimately roped in to an FBI-fabricated scheme to stage "a mass casualty attack," Hester pled guilty in 2019 to attempting to provide material support to a terrorist organization. He got twenty years.
There have been dozens of such cases. Yet our posts (see, for example, "Written, Produced and Directed") have persistently voiced skepticism about the viability of the threats. Lacking an undercover agent's friendly "guidance," many wannabees seemed unlikely to act on their own. Prediction, though, is a tricky business (see, for example, "Missed Signals"). Consider the flack the FBI got for supposedly overlooking the many social media posts that warned about a forthcoming Capitol assault. In "Chaos in D.C." we mentioned that the phrase "storm the Capitol" came up online 100,000 times during the preceding month.
According to NBC News, part of the FBI's hesitancy to investigate the Capitol plotters may have been that a massive online "dig" for incriminating information could harken back to the scandalous "snooping" of the Hoover years. Another roadblock – the sheer mass of the content, and how to separate the wheat from the chaff – was mentioned by FBI Director Christopher Wray during his testimony to the Homeland Security Committee as it investigated the lack of preparedness for the assault:
And how to separate who's being aspirational versus who's being intentional, it won't shock you to learn, and hopefully not other members of the committee, that the amount of angry, hateful, unspeakable, combative, violent, even rhetoric, on social media exceeds what anybody in their worst imagination is out there. And so trying to figure out who's just saying, "You know what we ought to do is X." Or, "Everybody ought to do X." Versus the person who's doing that, and actually getting traction, and then getting followers, and of course, that's assuming that they're not communicating through encrypted channels about all that stuff, is one of the hardest things there is to do in today's world with the nature of the viral extremism threat we face.
As he agonized about making sense of the disjointed chatter, Director Wray was alluding to a key issue. Unlike the wannabe terrorists that his agents occasionally snared, the Capitol plotters didn't clearly appropriate the language of crime. Protesting, after all, is a Constitutional right. Given the chaotic online scene, gathering compelling evidence that specific persons will seek regime change through lawbreaking is no simple task. These "dopes" didn't set themselves up to be "roped."
It's not just about the Capitol assault. Consider subway shooter Frank R. James. He ranted extensively, and over a long period. Yet as far as we know, his first allusion to shooting anyone came only one day before his attack. And even then, no specific targets were announced. Bowers, Sayoc and Beierle also posted profusely. But only Sayoc delivered individualized threats, and these came very late in the process. Similar obstacles would have beset anyone examining the online trails left by John Earnest and Patrick Crusius. To be sure, both seemed potentially dangerous. But building a criminal case takes a whole lot more.
---
Set "criminal case" aside. Restraining orders are often granted after episodes of domestic violence. In some places their use has expanded to include persons whom family members and police deem untrustworthy with a gun (see "Red Flag" I and II.) There are also many provisions for dealing with the mentally ill (see "A Stitch in Time"). But massacres are something new. The threat they pose to educational institutions has led many school districts to adopt the "threat assessment" approach. Developed in the nineties, it's a comprehensive process for identifying possible perpetrators, evaluating their risks, and moving them away from violence through counseling, social services and other supports (for a new book about the technique click here.)
Threat assessment relies on referrals from police officers, family members and friends. Could it be expanded to encompass the online world? Perhaps. But as FBI Director Wray testified, given the massive nature of online chatter, distinguishing between the "aspirational" and the "intentional" would require special tools and dedicated analysts:
So there's a data analytics piece, because the volume is so significant that we need to get better at being able to analyze the data that we have to do it in a timely way, to separate the wheat from the chaff. And that requires both tools, analytical tools, and we've had requests for those in the budgets the last couple of years, but also people, data analysts, who can devote their time to that who have the experience.
Be sure to check out our homepage and sign up for our newsletter
According to an article in the October 2018 NIJ Journal, "Using Artificial Intelligence to Address Criminal Justice Needs," A.I. could help. Although the emphasis is clearly on other things, a section about crime forecasting mentions that A.I. could scan media to "identify criminal enterprises" and "predict and reveal people at risk."
We thought the approach intriguing. It seemed especially applicable to our three killers of note, Bowers, Sayoc and Beierle, as each had an expansive, long-standing online presence. Yet as the Brennan Center recently cautioned, Government monitoring of social media platforms raises a host of civil liberties issues. Participants at a 2o19 NAS symposium on human rights worried that AI's use by the authorities could worsen bias and inequality. Such concerns likely drove Senator Ben Sasse to spill his drink on Director Wray's great notion:
I would love to hear your big national pitch for these data analysts because we need more great human capital to serve their country in this way. But I also want to be sure that our training for these data analysts have First Amendment sensibilities about what they're there to do. They're looking for violence, they're not looking there to be the national speech police.
Actually, the good Senator need not worry. At present, the "craft of policing" isn't about trolling for lunatics, online or otherwise. As your writer can personally attest, law enforcement agencies – including the FBI – have always focused on crimes, investigations and arrests. That's what their budgets are built on. It's how their employees earn promotions and advance through the ranks. So while our epidemic of mass shootings and the Capitol assault may have caused some reconsideration, America's law enforcement agencies remain firmly planted in the offline world. As long as wackos and killers don't accidentally cozy up to an undercover Fed, they can likely keep using the Internet to their twisted hearts' delight.
UPDATES (scroll)
6/9/22

Uvalde residents are troubled with two main questions. Why did police delay moving in? And why wasn't Ramos' threatening behavior - particularly, his posts on social media - reported to officials? This wasn't the first time that the town's schools had come under the gun.

In 2018 two Uvalde teens

, ages 13 and 14, devised an elaborate plot to commit mass murder at a junior high school on the anniversary of the Columbine massacre. But their intentions became known and the teens were arrested.

According to

a 2018 Secret Service report

, early intervention is key to preventing school violence. But

its 2019 study

of 41 episodes found that although most plotters had leaked their intentions verbally, in writing or otherwise, their warnings weren't heeded. Peers, says a

2021 Secret Service report

, are best positioned to know, but may not take the messages seriously, or may be afraid or reluctant to snitch. It's up to parents,

says the Washington Post

, to get their kids to drop the "code of silence" and open up.

6/6/22

Gun-oriented Internet forums redolent with extremist, anti-Government chatter and online sites that sell firearms kits and components offer moral and technical support for those with potentially lethal inclinations. Tactical training videos cover everything from staging an assault to the use of protective gear. While some of the more prominent platforms try to vet content, given the vast online space such efforts have little impact.

5/27/22

In two recent mass killings - one at a Buffalo market, the other in a Texas elementary school - the shooters used "Gen Z" apps, including Snapchat, Instagram, Discord, Yubo and Twitch to communicate and share their intentions. These platforms are designed from the ground up for privacy, and messages and images exchanged within their boundaries can prove impossible for outsiders to monitor.

5/19/22 In response to the Buffalo massacre, New York Governor Kathy Hochul issued an executive order directing that State Police seek an extreme risk protection order barring persons from gun possession "when there is probable cause to believe the respondent is likely to engage in conduct that would result in serious harm to himself, herself, or others." She also directed that State Police form a counterterrorism team that would, among other things, analyze social media posts for potential threats.

5/18/22 Buffalo Shooter Payton Gendron was friendless and lonely in high school. Other students thought him "socially awkward and nerdy" and avoided him. He didn't talk much, and when he did "it was about isolation, rejection and desperation." Gendron learned his racist views online. He became consumed with computer games and was fascinated by guns. He struggled to keep his parents unaware that he had dropped out of college, had bought guns and was readying an attack. And a half-hour before it began, he invited other Discord users into his chat room to view his plans, and to watch.

5/17/22 Buffalo shooter Payton Gendron began posting his plans and intentions in November 2021 on Discord, an online chat application. His screen name was Jimboboiii. One message explained that he avoided losing his gun rights after being taken in for the mental health check by insisting that his "murder-suicide" comment was a joke. But it wasn't - "I wrote that down because that's what I was planning to do." Gendron also wrote that he made an advance visit to Tops to check it out and had a "close call" with the guard, who became suspicious about his multiple entrances and exits to the store.

4/23/22 On Friday afternoon, 4/22, Raymond Spencer, 23, set up a gun tripod on the fifth-floor balcony of an apartment building in a residential area of Washington, D.C. He opened fire on a nearby school, wounding four, including a child. Spencer, who identified himself as a fan of the AR-15 rifle on his Wikipedia bio, apparently posted a video of the assault online. Immediately after, he apologized for his actions, then taunted police on 4chan, a popular social media network. Spencer committed suicide.

His Facebook post complained of "many years of mental illness." It also announced that "I have made the absolutely horrid choice in not only taking my life, but the lives of my aunt...my uncle...and my two sweet, beyond angelic cousins." Shortly after posting these comments, Brandon Cole-Skogstad, 29, committed suicide with the same 9mm. pistol he had just used to kill Riana and Sean Barry and their two daughters, ages 9 and 12, in their Duluth, Minnesota home. Police in nearby Hermantown, where Cole-Skogstad lived, had been alerted that he was in a mental health crisis but couldn't find him at home.




Did you enjoy this post? Be sure to explore the homepage and topical index!
Home Top Permalink Print/Save Feedback
---
RELATED POSTS
Another Day, Another Massacre Chaos in D.C. Preventing Mass Murder Ban the Damned Things!
Red Flag (I) (II) Massacre Control A Stitch in Time After the Fact
Coming Clean in Santa Barbara Written, Produced and Directed Flying Under the Radar